Just witnessed your best live gig?.. send us a review!
Pontins, Prestatyn, North Wales 2-4 December 2010
Day 1
Thursday 2 December 2010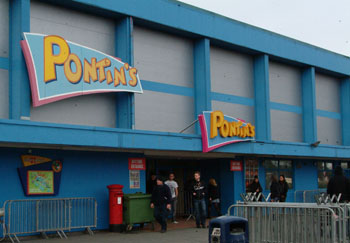 Photo: Noel Buckley
Hargh Hargh me hearties, it's that time of year as we enter the silly season and there is no better place to be for fun and frolics than to be here at the fourth Hard Rock Hell festival in Prestatyn Pontins hoilday camp in North Wales.
Some were worried at first if the weekend would happen at all with news coming in the week before that Pontins had entered administration, also there was the problem of the blizzards of snow covering most of the country that would prevent some fans and bands from attending at all.
It was to be another action packed weekend with more band injuries, bands held at airports, and enough booze downed to sink a windjammer.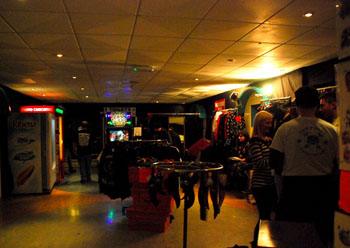 There was 9xDead on the Thursday and 15xDead on the Friday and that wasn't a body count, just the name of a couple of bands who I... er...hic...didn't check out.
Luckily the journey from London was entirely hassle free and once we got to our chalet it was time to toast ourselves to a successful journey by opening up a bottle of red. In these artic conditions the camp resembles a Russian gulag but the assortment of booze we brought along soon warmed up the cockles.
Thursday night is party night and tonight has been billed as 'The Pirates of Prestatyn' where many join in the fun dressing up in pirate fancy dress. Shiver me timbers it's brass monkies outside so i slipped on my long john silvers to venture out into the main hall to see if it's an eye patch on last years opening night. It was great to see so many beauties dressed up in their booty showing off their treasure chests....Oooohhh aaaaaarrrggghh!!
Shipwrecked back home in the snow and firing a blank were the Gypsy Pistoleros and Dumpy's Rusty Nuts were frozen solid on the M4.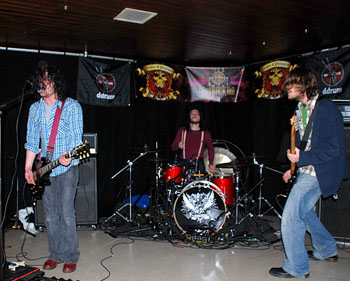 In the Queen Vic, fresh from supporting Skink Anansie were the excellent Virginmarys who were converting some new fans with their power trio rock. Worth checking out.
At the Pirates Ball DJ Krusher Joule was hosting with some rocking sounds but was told by security to turn it down for being too loud, but that fell on deaf ears.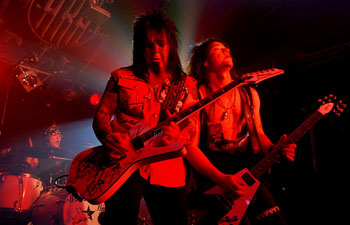 Going bezerk for it were Tigertailz who played a more varied set this time around. The band sound a whole lot heavier with new boy Robin Guy bashing his skin at the back. 'Dirty Needles' was pure metal and 'Love Bomb Baby' ensured the first sing-along of the weekend.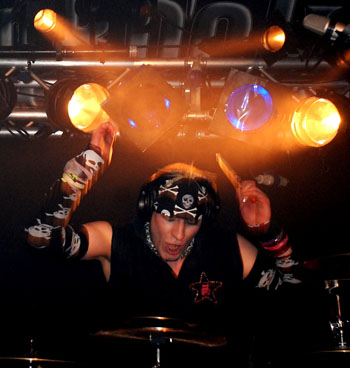 Having the perfect beards for a night of piracy were the Gentlemans Pistols who burnt off plenty of gunpowder. 'Sherman Tank ' being a highlight. More people will get into this great band once the second album finally gets released early next year.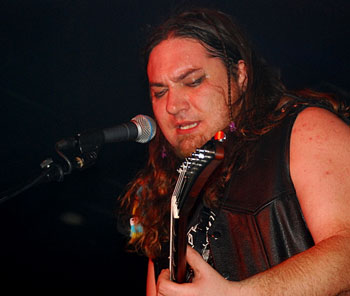 Attica Rage were playing one of their many sets at HRH this time being billed as Attica Undercover playing a set of rock classic covers including a dedication to Ronnie James Dio with good versions of 'Heaven & Hell' and 'Holy Diver'.
To be perfectly honest nothing new was floating my boat tonight so it was time to walk the plank (My photographer and partner in grime Noel 'Swash' Buckley) back to our own Davy Jones locker for a few nightcaps and a barrel of fun with our roomate for the weekend the leg end that is the Beerman, a DJ from Top Rock Radio in Brummie land, sharing tales of rock 'n roll and helping him to finish of the rum.
I was well and truly jolly rogered by the end of the night/morning. The skull and crossbones were only flying at half mast.

Review by Mark Taylor
Photos by Moonshayde Photography, except where indicated. With thanks to Lynne.
---