Willy doubles for Depp in next blockbuster ...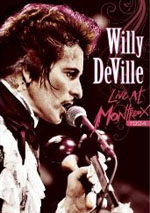 Perhaps best known for Spanish Stroll in the late 1970s (at least by none acolytes) Willy DeVille is, in fact, a pretty prolific artist who over his career has turned his hand to a good many genres.
This 1994 Montreux concert finds Willy making a triumphant return to the venue with his Mink DeVille Band. And Willy is not just an artist, the man's an artiste.
The band open the set with the jazzy (Every Time I Hear) That Mellow Saxophone, before the main man makes his entrance against some more superb sax playing from Mario Cruz. With his dress suit, ruff and ponytail he looks like an extra from Pirates Of The Caribbean. With his sculptured 'tash, irregular teeth and almost constant cigarette, he could certainly give Jonny Depp's Keef Richards based character a run for his money.
This 19 track DVD and 14 track cd package covers a nicely under rehearsed set - it feels loose and 'real' meandering through everything from jazz, through the blues (Willy plays a mean blues harp), soul, latin, rock, Cajun and of course, Spanish Stroll.
Willy's gruff bluesy vocals percolate the set, and the man sweats buckets. He also gets through a decent number of fags and his ability to sing without removing the cigarette from his lips is a particularly impressive feat.
It's an impassioned performance, from the Springsteen 'give it all you've got' school of rock. That makes this DVD/CD 'collector's edition' a must have for fans. For others it's an exemplary lesson in how live music should be played - with guts, edge and total self belief.
****
Review by Pete Whalley