VERDEN ALLEN My Masochistic Side Angel Air SJPCD319 (2009)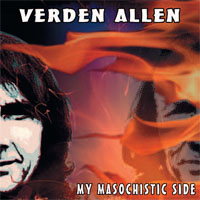 Allen Breaks New Ground Mott The Hoople Keyboardist's new album 'My Masochistic Side' is the best yet. Whilst Mick Ralphs and Ian Hunter were always perceived as the main writers on Mott's first four albums for Island Records', 1971's highly underrated ' Brain Capers ' brought a third writer into the mix - keyboards player Verden Allen. Allen's rich playing and unique sound blending a combination of Hammond Organ and Lesley speaker was always the bedrock of Mott's early records and live sound and was much admired by many up and coming bands of the late sixties and early seventies.
Allen's writing threw a splash of colour into the Mott song mix, as witnessed by 'Soft Ground' on 1972's 'All The Young Dudes' album (which gave Mott its first album chart breakthrough). Often co-writing with Hunter, Allen's writing blossomed to produce such Mott classics as 'Death May Be Your Santa Clause' and the beautiful 'Hymn For The Dudes ' on the runaway successful Mott album from 1973, together with the highly rated (but sadly only recorded in demo form) solo compositions 'Nightmare' and the completed 'Son Of The Wise Ones', which remained unreleased until the mid 1990's.
Because Verden Allen felt he wasn't getting a fair crack of the whip on the publishing front, he left in early 1973 to form the band 'Cheeks (later to become 'The Pretenders' when Chrissie Hynde joined later following Allen's departure) and then subsequently launched a solo career that has seen Allen's writing blossom since the Mott days.
The albums 'Long Time No See' and 'For Each Other' (both still available) contained some classy songs and showed definite progression - the single 'Come On Back' sold very well and was nearly a hit until the distributor went bust - but 2009's 'My Masochistic Side is by far his finest and most accomplished album yet.
Recorded in his Glamorgan studio and with stunning art work by up and coming album designer Ken Nicholls, MMS grabs you by the throat and shakes you to the soft ground.
The title track sets the tone for a dark and imposing work rich in melody and exemplary keyboard work so befitting Allen's uniquely talented style. The devastatingly beautiful melody of 'Find Yourself' takes you to another side of consciousness and sends a shiver down the spine, single material if ever there was.
In a world dominated by X Factor karaoke artists and plastic twangy guitar copy bands, this is where the real music now lies, the diamonds in all the muck and gunge of hyperbole multinational record labels and TV advertising. Real music buffs may well despair, but it's there in the rough if you look hard enough. MMS glares like a beacon of hope in a sea of mediocrity with its eclectic mix of styles 'Sweet, Sweet Girl' bounces along lightening the mood, whilst 'Apollo 13' and 'Baby' evidence the beautiful contrast of styles that changes the album's mood again, evidence of a very seriously talented writer.
The refrain in 'Baby' is simply superb, an exemplary composition that maintains the high standard of a very important piece of work. Like Island Records and CBS before, all credit to Angel Air for having kept with the artist and for giving him the time and space to develop. The progression that began way back in 1970 has come full circle and Verden Allen's body of work, culminating in MMS, remains a serious but often overlooked catalogue in the great history of British Rock. Don't forget to buy it!
*****
Review by Nick Allsopp


£12.99
---