The Adventures are one of the most underrated bands of the 1980s. They released a clutch of fine singles and albums in the guitar-based melodic pop-rock vein between 1985 and 1993. The first of these, "Theodore And Friends", has been reissued by Lemon with 7 bonus tracks.
Pat Gribben and Terry Sharpe grew up together in Belfast and they played in The Starjets, whose sole album "God Bless The Starjets" was released by Epic in 1979. They later put together The Adventures, the other band members being Pat's wife Eileen, Spud Murphy and Tony Ayre. Under the management of Simon Fuller, they eventually signed to Chrysalis Records.
The "Theodore And Friends" album, the title of which was inspired by the John Wyndham science fiction novel 'The Midwitch Cuckoos', opens with the jangly 'Always' which is followed by what guitarist Gribben feels should have been the first single off the album - the impressive 'Feel The Raindrops'. This track highlights the band's qualities; Terry Sharpe's powerful vocal, augmented perfectly by Eileen Gribben's vocal harmonies, some fine guitar work by Pat Gribben and all underpinned by a solid rhythm section.
Pat Gribben on "Theodore And Friends"

A long overdue CD reissue for "Theodore And Friends" - you must have been pleased / surprised to hear it was coming out again?

Very pleasantly surprised. There's something naive and endearing about this album. A bunch of kids not really knowing what they were at but managing to create something worthwhile I think.

If you think back to when the album was recorded and released originally, being your debut album this must have been a very exciting time?

Unbelievably exciting. I'd spent most of my life up to then hoping to one day make a proper record and get it out there. There's nothing like the first time you hear yourself on the radio - magical.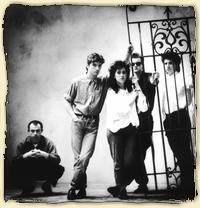 Who were the main musical influences on the band when you first started out?

For Terry and myself, I guess it was always The Beatles and Sixties pop - Kinks, Beach Boys etc. Eileen was coming from more of an Irish folk and traditional background.

The use of three different producers on this album is well documented in the sleeve notes…

The producer thing was a pain really. Each brought something different to the gig. Garry Bell was a joy to work with, but the truth is that Steve Lipson was down to make the record but due to his commitments to Frankie goes to Hollywood the album kept being put back until we gave up on him and went with the three documented. I don't want to knock what happened, but Steve was red hot then and would have been perfect.

Send My Heart - one of the most glorious pop singles of the time and one of my favourite songs of all-time, but not a big hit. Discuss!

Well, see above really. I think the song had great potential but was not realised completely. Groove wise particularly. Steve would have killed on this.

Listening back to the album today, how do you feel it stands up and which songs stand out for you?

I'd like to do it all over again but it's not called a record for nothing. It is a record of where we were at, at that time. Again it just sounds naive. But maybe that's one of its enduring qualities. I like 'When The World Turns Upside Down'.

Nowhere Near Me is far too good a song to have been tucked away on a B-side, how come this didn't make the original cut?

Not sure to be honest. I quite like it, but no more than that.

Who is J. Martin who is credited with writing the bonus track 'Tristesse En Vitesse'?

This is John Martin who is a lifelong friend of mine - in many ways my musical mentor. He showed me my first few guitar chords when I was about 14 - a brilliant musician but, more importantly, a wonderful guy.

What are your hopes for this reissue?

That someone somewhere enjoys it.

Are there any plans for other Adventures reissues that you are aware of?

The BBC radio sessions you mentioned are the only ones I've heard about (EMI are releasing "Theodore And Friends" digitally in October, along with three original BBC sessions and a BBC In Concert recording).

What have you and the other band members done musically since 1993's "Lions And Tigers And Bears" album?

Everyone has gone their separate ways. I don't know where Tony Ayre is, but Paul Crowder is in L.A. making documentaries very successfully. Jonathan Whitehead composes and records television music - "Green Wing" being his big success.
Terry is here in Belfast working as a musician. Spud (Gerard Murphy) is also working in Belfast. Eileen and I are still together, we have four children.
I am currently working on a musical based on the life of George Best. It opens in the Opera House in Belfast next August. I also gig quite a bit with Brian Kennedy, and on occasion with Terry and Eileen we do Adventures gigs. In fact, we're closing the West Belfast festival on August 9th along with The Divine Comedy.

In a parallel universe, 'Send My Heart' would have been a chart-topping smash. Somehow it only reached #58 in the UK, although these days the same number of sales would probably be enough to secure a #1 position! An up-tempo gem with killer chorus (and some particularly haunting harmonies), this song is probably the best example of what the band were all about.
The original side one concludes with 'Two Rivers' and 'Don't Tell Me'. The gentle guitar of the latter reminds me somewhat of The Pale Fountains - another underappreciated band of the time.
Side two opens with 'Another Silent Day' - a good track in its own right but probably, as Pat Gribben agrees in the sleeve notes, not the ideal choice for the first single. Next is the storming 'When The World Turns Upside Down' which features a terrific soulful vocal from Terry Sharpe. It wasn't released as a single, but perhaps it should have been as it's a catchy number with an incessant chorus that, once heard, stays lodged in the brain! 'Love In Chains' is another sparkling cut, before the album closes with 'Lost In Hollywood' and the darker 'These Children'.
There are gems to be found among the bonus tracks too (all of which were originally extra tracks on various single formats). 'Nowhere Near Me' is the pick of the bunch and eclipses many of the tracks on the album.
There are extended remixes of 'Feel The Raindrops' and 'Send My Heart' (listen out for the brief 'Day Tripper' bass line on the latter at the fade!) and two live recordings - 'These Children' and a fiery cover of the Talking Heads track 'Life During Wartime - along with 'Happy Depression' and 'Tristesse En Vitesse'.
The Adventures went on to achieve their highest UK chart placing with 1988's #20 hit 'Broken Land' from the Elektra album "The Sea Of Love". Followed by 1989's "Trading Secrets With The Moon" and 1993's "Lions And Tigers And Bears", these were all worthy albums, chockfull of classic song writing and melodic nuggets which deserved more success. The band split up after "Lions…" although they have reformed on occasions since and it is to be hoped that one day they will record some fresh material.
In the meantime, this re-mastered reissue will no doubt be warmly received by the fan base and will hopefully also introduce their work to an audience that may have overlooked them the first time around. "Theodore And Friends", it's good to have you back in print!
****
Review by Jim Henderson
Jim Henderson presents "Power Pop" on Get Ready to ROCK! Radio, Thursday 21:00, Sunday 14:00
---