ROD STEWART Atlantic Crossing/Tonight's The Night Rhino (2009)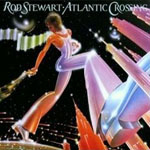 I've been known to enjoy a bit of Rod Stewart. Maggie May - one of my favourite all time tracks, and my iPod includes a fair smattering of some of the great man's best moments.
So I was quite interested to receive these re-mastered and repackaged albums which memory would have you believe rightfully deserve the tag of 'classic'. Recorded in 1975 and 1976 with Tom Dowd at the helm, Atlantic Crossing and Tonight's The Night marked Rod's move to LA for tax reasons and his emergence as an Atlantic straddling global superstar.
Both albums yielded some truly classic moments - I Don't Want To Talk About It, It's Not The Spotlight, This Old Heart Of Mine and Sailing from Atlantic Crossing, and Tonight's The Night, The First Cut Is The Deepest and The Killing Of Georgie from Tonight's The Night.
What's interesting, on reflection, is that all these tracks came from the 'slow half' of each album. And revisiting these albums now, it's clear that the 'fast halves' simply haven't weathered as well. The truth is probably that post severing his links with The Faces, Rod never really hit the rock 'n' roll highs of say, Stay With Me, and You Wear It Well. From thereon in his act was either pop / rock showman or balladeer supreme.
Of course it's not the first time Rod's back catalogue has been re-mastered, so to attract buyers this time around, both albums come replete with a bonus disc of previously unreleased material comprising complete alternate/early takes of both albums plus a handful of more interesting outtakes - To Love Somebody, Holy Cow and Return To Sender (with the MG's), an early version of Get Back (for the film All This And World War II) and two Stewart penned numbers - the excellent Share, and Rosie which was used as a B-side to Killing Of Georgie.
But great as the vocals are, only absolute diehards are likely to find anything on these additional discs that merits anything other than a cursory listen.
No, the meat is on the main discs, and the lean pickings the 'slow half' ballads that have stood the test of time quite marvellously. Of the two, Atlantic Crossing is the **** main course, with Tonight's The Night the *** dessert. But if it were my money, I'd look to pick up a copy of the magnificent 4 CD Storyteller career spanning box set for about the same price.
Atlantic Crossing ****
Tonight's The Night ***
Review by Pete Whalley
---
| | |
| --- | --- |
| | Print this page in printer-friendly format |
| | Tell a friend about this page |