PANIC ROOM Satellite Voiceprint (2010)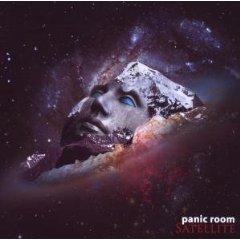 Panic Room's debut album 'Visionary Position' was one of the albums of 2008 - a proggy meld of Celtic, Eastern and folk influences.
For that 'difficult second album' the band have adopted a more direct approach and in doing so have laid down a challenge to all the other crossover prog bands out there - 'follow this!'
If Visionary Position was a statement of intent, then Satellite sees the band fulfill its promise. Anne-Marie Helder's vocals have grown in confidence and maturity, the core songwriting team of Helder and keyboard player Jonathan Edwards have come up with a wonderfully accessible bunch of songs, and the band sound an altogether more cohesive unit.
There's some beautiful fretwork from Paul Davies whose contributions, along with those of Edwards' keys gild the lily perfectly. But, somewhat unusually, the playing that struck me most was the bass work of Alun Vaughan which is quite sublime throughout.
A word of praise must also go to the Helder/Edwards production which one of the best I've heard in recent times. And while we're name checking, let's not forget Gavin John Griffiths, whose rock solid drumming underpins everything.
A special 2 disc edition that includes a bonus 24 minute, 4 track EP - Little Satellite - is available exclusively from the band's website (www.panicroom.org.uk) and at gigs. I'd suggest that the special edition is an essential purchase - the 4 'extra' tracks recorded during the Satellite sessions are no fillers. There simply wasn't enough space to include them all on the basic album. And they're all gems.
Running out a generous - by today's standards - 11 tracks over 60 minutes, Satellite kicks off with a pair of corkers - 'Freedom To Breathe' whose brilliant vocals, stonking rhythm and massive hooks are guaranteed to induce involuntary toe tapping, while the hypnotic bass line and soulful vocals on 'Picking Up Knives' make it destined to be a live favourite (as will the excellent 'Go on Little Satellite').
'I Am A Cat' is a quirky, almost Sam Brown style number that grows with each listen, while 'Black Noise' demonstrates the band's ability to 'rock out'. In contrast 'The Fall' demonstrates their aptitude at delivering dreamy ballads. But in truth, it's difficult to single out tracks of special mention/merit such is the consistency of the set.
That said, if pushed, 'Yasuni' is a real grower with a wonderfully funky bassline, some exquisite guitar work and vocals to die for, while on Little Satellite the lovely 'The Great Divide' and the extended workout of 'Sandstones' tick all the boxes. On the latter (which starts with classic Curved Air, Back Street Luv style keys), there's yet another magnificent bass line, Ann-Marie's vocals will raise the hairs on your neck, and the trading of Hammond and guitar lines by Edwards and Davies is nothing short of glorious.
Without doubt, it's going to be exceedingly difficult to find a better album in 2010. Perfect progressive pop rock.
*****
Review by Pete Whalley
---
| | |
| --- | --- |
| | Print this page in printer-friendly format |
| | Tell a friend about this page |