MARC CARROLL Dust Of Rumour High Noon Recordings (2009)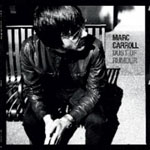 How do you cut through the ether when you are a singer songwriter on your third album and remain something of an unknown? Well you look for a different angle. And the word on the street is that Beach Boy Brian Wilson invited Carroll to his birthday party.
This gives you a clue. Carroll, Dublin-born now resident in LA, looks more to the States for his musical vibe. 'Now Or Never' for example harks back to the jingly-jangly of a Byrds' McGuinn or even CSN&Y (in fact on the album sleeve, Carroll looks like an early McGuinn) whilst the early single 'Always' and 'What's Left Of My Heart' could be from Dylan's more commercial songbook.
From the cheerful and upbeat opener 'Love Will Rule Our Hearts' which is built around a simple mantra, there is enough here that is accessible and enough that repays further inquiry. Carroll even allows himself the indulgence of an attractive instrumental 'The Boy Who Dreamed' whilst 'Going Home' has Wilson-esque harmonies.
Ironically, though, Carroll's Celtic roots shine through in one of the standouts 'Against My Will' making you wonder whether he shouldn't be more true to his upbringing. But this also has Simon and Garfunkel-esque motifs which quickly helps destroy such thoughts.
If there is one criticism 'Dust Of Rumour' is too short by far, and there's no darkness to act as a counterweight to the essentially upbeat pop rock fare on offer.
It is a crowded market out there, with Teddy Thompson, Damian Rice et al all vying for position. But if Marc Carroll gets Brian Wilson's vote he should perhaps get yours too.
***½
Review by David Randall
---
| | |
| --- | --- |
| | Print this page in printer-friendly format |
| | Tell a friend about this page |