LARRY CORYELL Earthquake at the Avalon INAK9092CD (2009)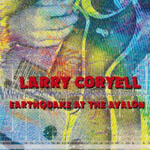 Presumably 'Earthquake at the Avalon' comes from the same source as the 'Larry Coryell: A Retrospective' DVD that the Inakustic put out back in 2007.
For those of you not having the benefit of the excellent documentary this CD is an audio snapshot of a concert which clearly sets out the case for Larry Coryell to be regarded as one of the best guitarists in the world.
But it is with the categorisation and possibly marketing that Coryell has a problem. For back in the 70's when Jazz Fusion was at a much higher profile than now, he fitted into the highest echelons of a commercially rewarding genre, be it with Chick Corea or with his own Eleventh House.
Years later he headed for the nether regions of jazz world and by the 80's was all but marginalised in the backwash of (albeit beautifully played) acoustic and classical material.
What then are we to make of this sudden release by one of the almost forgotten heavyweight guitarists of your time?
Well, putting aside categories for the moment, a couple of things stand out. Firstly Larry has started singing - albeit in a Jerry Garcia meets Mick Taylor style - but with just enough about his vocals to offset the meatier bits of jamming that follow. Secondly, he's picked a stellar band for what is effectively a showcase and in bass player Jon Hart and drummer Bernard Purdie, he's fronting the hottest rhythm sections imaginable.
Throw superb trumpet player Winston Byrd into the mix on a couple of tracks plus his son Julian Coryell on second guitar and keyboards and Larry has all the elements to flourish. In fact he doesn't so much whip up a storm as meander his way through a number of soulful spontaneous grooves with a mix of different tones, tempos and judiciously applied wah wah and occasional moments of sheer magic.
Dipping into a soulful rock blues groove on the humorously titled and Hendrix influenced 'Soul Dirge' Larry inevitably shifts towards jazzier climbs on the dynamic revisiting of 'The Dream Thing/Stiff Neck' and the closing ode to Wayne Shorter 'The Dragon Gate' - which turns out to be a spine tingling piece of ensemble playing.
But whether referencing Rock, Blues Jazz-Fusion, Be Bop or Funk in his playing, Larry eloquently demonstrates he is still is a master guitarist per se. He is also joined by David Hidalgo (Los Lobos) for a languid but engaging 'Slow Blues' and both guitarists hold an eloquent conversation on 'Half of Heart'.
I would imagine most Coryell fans will already have the DVD, but this 8 track CD is more than an impressive calling card for an enduring major talent on guitar who all these years later finally seems to have found a crossover niche, if not contentment, for his outrageous talent.
****
Review by Pete Feenstra
---
| | |
| --- | --- |
| | Print this page in printer-friendly format |
| | Tell a friend about this page |