KEVIN AYERS The Confessions of Doctor Dream Universal (2009)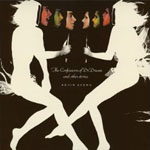 Phase two of EMI's grand sweep through the career of the gentleman rocker's catalogue finds him at a commercial and creative peak in 1974's Doctor Dream, the last of his works to successfully fuse lengthy leftfield extemporism with droll ditties, funk and sprawling rock.
The sleep state is foremost on the menu: former band Soft Machine's 'Why Are We Sleeping' rewards in a powerful revisit and then there's the side-long title track, a strange and troubling affair with the somnolent Nico guesting.
Lighter moments come courtesy of former Patto guitar virtuoso Ollie Halsall (in feisty form on 'Didn't Feel Lonely 'Till I Thought Of You') in what was to prove a near 20 year long partnership and with the likes of Lol Coxhill, Mikes Giles, Moran and Oldfield playing, and Rupert Horn producing, this could not really go wrong.
Top quality re-mastering brings a rich and varied work to startling re-entry and bonuses in non-LP singles and B-sides and some very tight (musically) Peel sessions forge a reissue worthy of the discerning catalogue fan's collection.
Ayers was always a pop song writer (check out the Soft's stab at chart stadrom 'Love Makes Sweet Music') and subsequent 70's releases - including 'Sweet Deceiver' and 'Yes, We Have No Mananas' (also being reissued) - though materially strong, are more conventionally-structured affairs. This is Ayers unharnessed...a very good thing.
****
Review by Peter Muir
Peter Muir presents "Progressive Rock Fusion" on Get Ready to ROCK! Radio, Sunday 19:00, Monday 19:00
---
| | |
| --- | --- |
| | Print this page in printer-friendly format |
| | Tell a friend about this page |