JON THOR BIRGISSON AND ALEX SOMERS Riceboy Sleeps Parlaphone 9630022 (2009)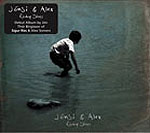 The opening of 'Riceboy Sleeps' sounds like a straight lift from Eno/Fripp's 'No Pussyfooting' album with its loop tape effects. In sum you are plunged into an ambient ocean from the start. Apparently played on acoustic instruments in Iceland before being filtered through laptop technology this isn't so much an album of instrumental prowess as simply ambient, mood music, whose soundcapes slowly unfold and contract as the mood takes.
Riceboy Sleeps is in fact Jonsi Birgisson from Iceland's Sigur Ros and Alex Somers from Parachutes. On the opening 'Happiness' there's an enveloping sonic feel that gradually gives way to the sound of running water. You suspect that what the listener makes of all this is a direct correlation to the mood the receptor is in at the time.
'Atlas Song' opens with what sounds like gently caressed Caribbean steel pans carried on the back of a high pitched radio signal of sorts. But inevitably there is more, as the opening celestial crescendo almost imprecisely slips into a restless sonic landscape populated by choral sounding accompaniment, synth noodles and a curious background scratching noise, much like an old vinyl. As the choir comes to the fore in the mix the piece evokes an uplifting quality, the dawn of a new day or new era perhaps. But then again this same feeling is repeated on several occasions, but the beauty of ambient music is that you can apply your own interpretation.
Unlike too much synth music this is a landscape populated by long linear lines (not necessarily progressions) with gentle musical waves that comes to the fore and then recedes again as part of a bigger adjoining landscape.
Of course the duo of Jonsi and Alex are cute enough to juxtapose the unsettling conclusion of 'Atlas Song' with the more optimistic sound of 'Indian Summer'. As everything here, perhaps the title offers a clue as the shakey melody line and delicate sounding rough analogue recording is meant to convey the belated season. Alternatively this piece could be a couple of 'heads' tinkering with sound effects. Either way it doesn't matter as the effect is by turns exhilarating, unsettling, and above all, a play on our expectations.
But taken as a whole on a work like 'Riceboy Sleeps' you simply have to jump in at the deep end and immerse yourself in it. And as if to amplify the point half way through 'Indian Summer' just as you expect a quiet outro the song is born again on a stronger sonic trail evoking the ringing tone of a horn in a church perhaps. The slowly dragged out sound loops again evoke Eno's earlier ambient experimentation. If anything this piece overstays its welcome with its unsettling quaver, and what sounds like multi tracked voices. The piano wave effect on 'Stokkseyri' underpinned by what sounds like an organ but probably turns out to be a synth, acts as link piece and slowly gains its own momentum over occasional scratching noises (again much like dust on the needle of an old vinyl record).
Every little addition to the sound cleverly suggests a myriad of possibilities but in fact the core pieces remain very static. It's almost as if at the core of infinite possibilities, little more than a few notes are being used as the sound is both fattened and trimmed according to the prevailing mood. Any clearer?
'Boy 1904' makes the most of the Kopavogsdaetur choir with another choral sweep while the portentous sounding 'All the Big Trees' is accompanied by a video of birds or bats on the band's website.
As I said interpretations reside with the beholder, but I guess it all boils down to having the patience and will to explore the possibilities within. For while there is much to recommend here, 'Riceboy Sleeps' doesn't really break any new ground. Look no further than artists like Eno, Terry Riley and Tangerine Dream to the Dark Ambient soundscapes of Artemiy Artemiev to the more impenetrable work of the Zeitkratze Ensemble and Ireland's God is an Astronaut onwards, to see the heavily populated ambient scene.
Perhaps what makes this duo unique is their conjoining music with art but ultimately producing the same sort of soundscapes as the aforementioned references. As ever it all boils down to your subjective mood; 'Howl' for example might suggest a dawn in the middle of a forest, an awakening, and as a the volume rises a slowly unfolding dynamic. It's not very original but it does offer you the opportunity to shut your eyes and dream. This after all is ambient music. The question is, are you searching for enlightenment or background music? You pays your money you makes your choice.
***
Review by Pete Feenstra
---
| | |
| --- | --- |
| | Print this page in printer-friendly format |
| | Tell a friend about this page |