JIMMY CAMPBELL Reissues Esoteric (2009)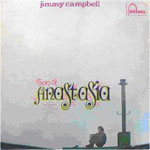 In an age where some albums are being reissued on CD for the umpteenth time, it is refreshing that the Esoteric label is still digging for genuine buried treasure that has yet to be unearthed in the digital era. Esoteric are to be applauded licensing the entire solo works of the relatively unknown singer-songwriter Jimmy Campbell. Having long revered these albums on vinyl, it is a real treat to finally have CD versions - all lavishly packaged and remastered from the original analogue tapes.
Born in Liverpool in 1944, Jimmy Campbell was a member of The Pulsating Panthers, a group of school friends who supported The Beatles in Huyton in 1962. Becoming The Kirkbys in 1964, they later changed their name to 23rd Turnoff and released the psych-tinged 'Michelangelo' single for Deram in 1967.
The Merseys, whose bassist Billy Kinsley had developed a friendship with Jimmy when 23rd Turnoff supported them on tour, recorded two of his compositions ('Penny In My Pocket' and 'Dreaming') for a 1968 single. This in turn led to Fontana's A&R man and producer Dick Leahy signing him to a three-album recording contract with Philips.
His debut solo album Son of Anastasia was recorded during the summer of 1968. The aforementioned 'Michelangelo' was re-recorded (a haunting version which, in a parallel universe, would be as highly regarded as 'While My Guitar Gently Weeps'), while a number of other older songs written during the Kirkbys / 23rd Turnoff years also made it into the set. Arranger and musical director John Cameron brought a session team in to accompany Campbell - among them was bassist Danny Thompson. Reissued here for the first time, the highlights of this 16-track album (admittedly most of the songs are very short) are many. Campbell's Liverpudlian accent shines through in his vocals throughout.
The other worldly opener 'When I Sit Down To Reason' features a frail vocal and is followed by the whimsical 'Mothers Boy' which sounds like an outtake from The Beatles "White Album". Psych gem 'Vincent Van Gogh' shuffles along courtesy of Ray Carr's drumming, while the kazoo makes an appearance on the acoustic 'Penny In My Pocket', the upbeat 'Tremendous Commerical Potential' (a title that could sum up Campbell's career at this point) and 'Adrian Henri's Party Night'.
There's a folky feel to several tracks - the standouts being 'Bright Side Of The Hill', notable for some lovely guitar, and 'You'll Break My Heart In Two' which features a distinctly aching vocal. 'They All Come Marching Home' has a nursery rhyme simplicity, while the groovy single 'On A Monday' features female backing vocals, lively strings and funky percussion. The original album closes with the melodic nugget 'Painting A Sign' (mistakenly titled 'Painting A Song' on this reissue) which only lasts for a mere 1:13 but sits among Jimmy Campbell's greatest compositions.
In addition to the original album, the bonus track 'Frankie Joe' (the B-side of the delayed 'Lyanna' single and influenced by The Band) is a real rocker, which includes a Lennon-esque vocal and features backing from Billy Kinsley and Dave Harrison. *****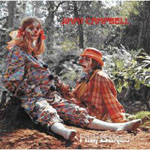 The follow-up, 1970's Half Baked (released on Philips' subsidiary Vertigo), is an upbeat and somewhat raucous album. It has more of a 'band' feel than "Son of Anastasia" which is the benefit of using musicians that Jimmy knew - Merseybeats members Tony Crane, Billy Kinsley and drummer Pete Clarke. Another Merseybeats drummer, Phil Chittick, appeared on some of the tracks too and there were lush orchestral arrangements by Nick Ryan and Donald Fraser.
The countrified opener 'Green Eyed American Actress' highlighted words that Campbell would have been justified to repeat in years to come after commercial success had eluded him. The lyrics "I could have made it easily, why I didn't - well I really don't know" were, in hindsight, quite poignant. In reality, Campbell's reluctance to spend more time away from home ultimately prevented him making a real breakthrough - Billy Kinsley states in the sleevenotes that "I think Jimmy would have preferred just being a songwriter and not having to be bothered by a solo career".
Elsewhere on "Half Baked, the sonically superb tour-de-force 'So Lonely Without You' is comfortably on a par with anything recorded by the Plastic Ono Band - it boasts a Phil Spector-esque production and one of Jimmy's strongest ever vocals. It's testament to the strength and diversity of the album that it can veer from a track like this, and the epic piano-led rocker 'That's Right, That's Me', to the plaintive and reflective nature of songs such as 'In My Room', 'I Will Not Mind' and 'Closing Down The Shop'.
Other highlights are the brooding title track, which explodes into a driving monster of a chorus that features Badfinger's Joey Molland on guitar, and the melodramatic and impressively orchestrated single 'Don't Leave Me Now'.
There's a bonus track in the form of the stomping 'Lonely Norman' that uses a similar groove to Nilsson's 'Jump Into The Fire' and features some wild guitar playing by Eddie Grant from The Equals. This song originally appeared on the Vertigo sampler "Heads Together, First Round". Compared to Repertoire's "Half Baked" CD reissue of a few years ago, Esoteric's version sounds vastly superior and is probably the best entry point to Campbell's work for a newcomer. *****
His third and final album for Philips, 1972's Jimmy Campbell's Album was a contractual obligation and he spent just one day in a London recording studio laying down 12 songs. With only two microphones, Jimmy's vocals and acoustic guitar were recorded in one session. Musician Michael Snow had appeared with Campbell and Kinsley on Rockin' Horse's superb 1971 power pop-infused album "Yes It Is" and was commandeered by Jimmy's manager Hal Carter to bring these recordings up to release standard.
Snow cleaned up the original master tape and brought in arranger Ron Carthy, and the rhythm section of Billy Kinsley and Stan Gorman, to augment the recordings. Snow would also replace most of Campbell's erratic guitar playing with his own, as well as adding piano, organ, vibraphone and some occasional electric guitar. Campbell would later thank Snow for not "overdoing" the production.
Despite Snow's majestic efforts, the album still has a "demos" feel to it and is a rather subdued and patchy affair in comparison to the previous albums. Songs such as the sparse 'Snow Covered Street', 'Paris, You're In Paris' (which benefits from the overdub of a musette accordian), 'Something In The Wind' and 'It Never Rains But It Pours' do possess a certain ragged charm, but overall this album is recommended to dedicated fans only and is certainly not the place to start for a Jimmy Campbell novice.
The album also includes 'Salvation Army Citadel' (covered by both Sgt. Will Scruffham and Rolf Harris) and 'Baby, Walk Out With Your Darling Man' - a personal favourite of Jimmy's, written about his wife Yvonne, which was recorded to better effect by Rockin' Horse. There are certainly songs here that could have grown into something much better had they been fully realised. ***
Jimmy Campbell's Album sank with little fanfare or support from Philips and that was Campbell's career pretty much finished. He would continue to write songs and occasionally play with a house band at local Liverpool venues. The Swinging Blue Jeans recorded some of his songs on their 1979 album "Jump N' Jeans", but Campbell would never record for another record label. He passed away in 2007 after suffering with emphysema.
Esoteric mark Jimmy Campbell's musical legacy magnificently with these three sumptuous reissues. The booklets are packed with original artwork, photographs, memorabilia and detailed sleevenotes by Campbell expert Mark A. Johnston.
Review by Jim Henderson
Jim Henderson presents "Power Pop" on Get Ready to ROCK! Radio
---
| | |
| --- | --- |
| | Print this page in printer-friendly format |
| | Tell a friend about this page |