Becks' triumphant guitar fusion-fest...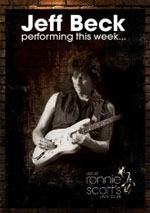 Jeff Beck's five night residency at Ronnie Scotts in 2007 was something of an artistic triumph: critically acclaimed and reasserting his place in the pantheon of guitar rock.
The filmed formats add back in those guest spots that were sadly omitted from the accompanying CD release. So we get cameos from Joss Stone on the soulful 'People Get Ready' the Curtis Mayfield-penned song Beck originally performed with Rod Stewart on the album 'Flash'. Two tracks with the guy he replaced in the Yardbirds, Eric Clapton, are executed in Clapton's customary sweat-free style.
In fact, the Clapton sequence juxtaposes their two subsequent careers: on the one hand, a conventional and commercial rise to superstardom via the mainstream, the other a more experimental approach embracing jazz,funk and - latterly - dance grooves.
The highlight for me is Beck's collaboration with electro-diva Imogen Heap. He contributed guitar to her last album and 'Blanket' (a track originally released by Urban Species with Heap as guest) repays her dues. Imogen also appears on an additional number, 'Rollin' And Tumblin'. Beck is no stranger to innovation and recent solo albums have embraced electronica and dance influences.
This is a well filmed, fine-sounding tribute to Jeff Beck's music played in an intimate venue up close and personal. Pretty much all bases are covered from a long and handsome career, from the opener 'Beck's Bolero' to more recent material such as 'Nadia' (from 'You Had It Coming' ) and 'Brush With The Blues' from 'Who Else!' although there is nothing from his last studio outing, 2003's 'Jeff'.
Throughout, Beck is accompanied by a crack band who really look as though they are enjoying themselves. Bonus material includes interviews with Beck and band members including Vinny Colaiuta and Jason Rebello.
The Blu-ray version of this release includes seven rockabilly tracks with the Big Town Playboys and bonus interviews with Beck and the band.
For Beck aficionados, and for anybody vaguely interested in superbly executed guitar fusion, a must-see.
**** (DVD)
****½ (Blu-ray)
Review by David Randall