IMELDA MAY Love Tattoo (2009)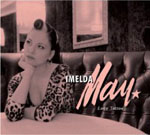 Back in the early 1990s Pat Benatar tried her hand at the blues. It didn't work, as genre hopping seldom does. On the strength of Love Tattoo, you suspect that if Imelda May tried her hand at rock she would simply blow away most of today's crop of female rock vocalists.
Unfortunately for us, Imelda is time locked somewhere in the 1950's when the double bass was king, Bill Hayley and The Comets were putting the rock into roll, and the king had yet shake his hips.
'Discovered' by Jools Holland (a poisoned chalice?) Irish born singer songwriter Imelda May serves up quite a stunning platter of rockabilly, blues and jazz on Love Tattoo. And from an audiophile point of view, you simply can't help but be impressed.
The sound quality and playing are absolutely immaculate, and Imelda's vocals bang on the nail. It's like putting the Comets into today's best studio and Imelda - having absorbed everything the likes of Billy Holiday, Dinah Washington and Wanda Jackson had to offer - time-warped to join them.
The result is a delight to anyone who gets their rocks off to double bassed rock 'n' roll, but for many that may be a step [back] too far. Retro is fine, but this is the real deal - unlike your Winehouses and Duffys. And for today's download generation it may be too much authenticity to stomach. But for those who simply appreciate purveyors of quality music...
***
Review by Pete Whalley
---
| | |
| --- | --- |
| | Print this page in printer-friendly format |
| | Tell a friend about this page |