Metal God's secret life...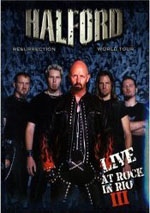 Since the creation of Rob Halford's private company Metal God Entertainment there has been a tonne of stuff released from Halford's solo archives with an emphasis on Fight, his first solo project, and Halford, his last solo project before rejoining Priest. There has yet to be anything released from his Trent Reznor collaboration Two.
Halford (the band) have indeed recorded some new tracks while the mainman has been busy in Priest and are set to release a new album in the next couple of years, which is good news for fans because both 'Resurrection' and 'Crucible' are strong metal albums.
This three hour DVD (which also includes a 28 page colour booklet) concentrates on Halford's performance at the 2001 Rock In Rio III. The band are in great shape and Halford's voice is really strong.
As a live metal band they are powerful as they blitz their way through killer metal tunes like 'Into The Pit' and 'Made In Hell.' The editing and camera work is good, showing the band in action and making Halford look cool.
The accompanying documentary is very interesting and shows what a complex character Halford is and how he works so hard to get the recognition he deserves; it includes interviews with the band Halford and tells the story of Rob's solo career.
Despite being labelled the 'Metal God' (which he has now trademarked) he is not too well known outside of the genre and that's something he is obviously troubled by. There's also the music video to 'Made In Hell' added to the end.
The CD is a remastered copy of Halford's (the band) first studio album 'Resurrection'. It was a great comeback for him and it's still a terrific album. It includes two new tracks 'God Bringer Of Death' and 'Fetish.' This is a great package for fans and addition to your collection.
****
Review by Neil Daniels