Purple Playboys in first decade...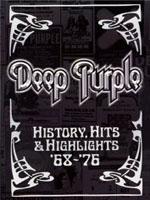 One of the truly great British heavy rock bands, and a feast of rare and unreleased material celebrating the band's first decade.
By 1972 the band had already produced the classic albums 'Fireball', 'In Rock' and 'Machine Head' and arguably their defining tracks, and this 2 DVD set includes archive footage culled from TV and studio sessions.
Disc 1 includes a 20 minute history of the band (which is essentially an edited down version of the whole DVD) and the key tracks whilst Disc 2 includes selected highlights and rarities including a Paris gig from 1970 and rehearsal sessions for the German Rockpalast TV show. A highlight has to be the clip from 'Playboy TV' of the Mark 1 band in 1968. Groovy baby.
The DVD does show graphically some of the motifs that would subsequently be de rigeur for any self-respecting hard rock band in the seventies (and later for that matter): a vocalist with a high pitch scream, a guitarist in front of a bank of Marshalls who then trashed the stage, and a keyboard player too well educated musically for his own good.
The Mk III version of the band is represented by a clip from French TV in 1974 and a candid interview at Leeds Polytechnic that any rock band could relate to, whilst Mark IV gets a New Zealand TV documentary.
For fans this is pretty much an essential purchase and the well illustrated booklet will appeal to collectors. However, aside from Geoff Barton's introductory essay, there is little information on the circumstances of the recordings or the source which seems a glaring omission. The film stock quality fluctuates drastically as you might expect, but generally the sound quality is excellent throughout. But for anyone who wants to quickly catch up on the Purple phenomenon through contemporaneous footage this more than fits the bill.
No doubt anoraks will debate the merits of the different line-ups but perhaps the most interesting aspects are the two interviews in 1974 and 1975 providing a counterweight to the Blackmore/Gillan years.
****
Review by David Randall