CRESSIDA Cressida/Asylum BGO (2009)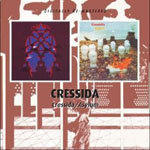 Talent-spotted by hip new label Vertigo, this obscure British five-piece's 1970 debut and its successor are models of early progressive rock.
Their intelligent, melodic compositions are inflected with English whimsy honed by Peter Jennings' piping church organ and Angus Cullen's affecting vocals to a state of sweet pastorality.
While copies hardly flew out of the shops, Vertigo gave the band another go. With Ossie Byrne (Bee Gees) back on production duties, the following year's 'Asylum' was a dramatic leap forward. Compositionally more sophisticated and rounded, a bigger recording budget enabled the hiring of music director Graeme Hall (fresh from Marvin, Welch & Farrar), and his unobtrusive orchestration together with deft jazz flute from the late, great Harold McNair contribute much to a memorable set.
And yet, and yet...despite the high quality of material and performance, 'Asylum' stalled commercially. Vertigo, spoiled for choice as pop-turned-prog acts queued for deals, called time and the band folded: drummer Iain Clark and guitarist John Culley moving to Uriah Heep and Black Widow respectively, guitarist Paul Layton, who had only just joined from The New Seekers, back to the bosom of his old band, while the others somewhat enigmatically, just disappeared.
Cressida's work has acquired some mystique and a growing cult following over the years: for a change, it is deserved. Seemingly, so rich was the talent vein on offer, success in the dawn of prog could be determined almost arbitrarily. It's a pity Cressida didn't stick with it. Far from being the foot soldiers one might imagine, they were up there, leading the charge.
****
Review by Peter Muir
Peter Muir presents "Progressive Rock Fusion" on Get Ready to ROCK! Radio, Sunday 19:00, Monday 19:00
---
| | |
| --- | --- |
| | Print this page in printer-friendly format |
| | Tell a friend about this page |