COVERED CALL Money Never Sleeps Blistering Records (2009)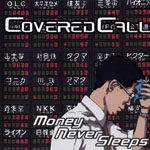 Covered Call is a Swedish band that features vocalist Thomas Vikstrom (Ex-Talk of the Town/ Brazen Abbot/Candlemass), Ronny Svanstromer (drums), Joel Carlsson (guitar), Thomas Thulin (bass) and Morgan Rosenquist (guitar). The label they are on is fairly new as well and they are building up a very good roster including the Moonstone Project, Lion's Share and of course Covered Call.
This album is a fantastic slice of modern hard rock with songs like 'All Because Of Me' blowing recent Bon Jovi out of the water and 'Til The End' having a heavier vibe. 'Shine' is an instant hit mixing the European hard rock sounds of Bonfire and Pink Cream 69 with Journey like harmonies. If you listen to nothing else by the band grab a listen to this song and I am sure it will win you over. They even tackle ballads with aplomb with the piano led 'Anything You Want' recalling the brilliance of Stryper or Crown Of Thorns. But the band have their own sound and what I really like about this band is they mix many styles be it a ballad, a melodic rocker or some hard edged modern rock like the title track.
Don't let this album slip by you in the mass of music that is out there as it deserves to be heard and not become in a few years time a 'lost gem'.
****½
Review by Jason Ritchie
---
| | |
| --- | --- |
| | Print this page in printer-friendly format |
| | Tell a friend about this page |
***** Out of this world | **** Pretty damn fine |
*** OK, approach with caution unless you are a fan |
** Instant bargain bin fodder | * Ugly. Just ugly
get ready to rock is a division of hotdigitsnewmedia group