CONSTANCIA Lost And Gone Frontiers (2009)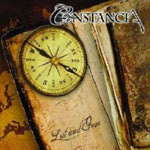 Constancia started out as the brainchild of former Scudiero/Token keyboard player Mikael Rosengren who had written a bunch of songs that showed his love of pomp rockers like Styx and City Boy meets more prog metal elements. The other notable band member is guitarist Janne Stark (Overdrive/Locomotive Breath).
After expecting some Styx like musical bombast I was surprised as the music is very heavy hard rock meets melodic metal and reminded me more of Million or Eden's Curse. That's still a good thing in my book! There is some Styx influence on the slower numbers like 'Life Is A Mystery' and the intro to 'www.lostandgone.com' before it launches into a brooding metal beast of a tune.
'Blind' and 'King Is Calling' are heads down rockers with plenty of keys and guitar solos to keep the listener happy. Guitarist Janne Stark certainly seems to have a free reign solo wise as there are some excellent ones to be heard throughout the album.
The good thing about this album as it gets better with each play as after the first spin I must admit bar a couple of songs it didn't grab me. But another few plays and you get into the music more, especially the attention given to the arrangements which many prog metal bands would do well to note. Classy melodic metal with a pomp edge - nice.
****
Review by Jason Ritchie
---
| | |
| --- | --- |
| | Print this page in printer-friendly format |
| | Tell a friend about this page |
***** Out of this world | **** Pretty damn fine |
*** OK, approach with caution unless you are a fan |
** Instant bargain bin fodder | * Ugly. Just ugly
get ready to rock is a division of hotdigitsnewmedia group