They predated Riverdance...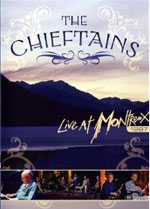 They're a strange lot The Chieftains. Somehow, and I'm not entirely sure how, they've managed to cement a unique place in the heart of the rock audience.
Yes, they've dallied with the rock fraternity down their career, but mostly in brief cameo roles adding 'authenticity' and roots credibility to some of their more mainstream counterparts in pop, country, folk and rock. Their guesting list reads like a 'who's who' - Van Morrison, Mark Knopfler, Jagger, Elvis Costello, Roger Daltry, Tom Jones, The Corrs, Sting, Roseanne Cash, and Jackson Brown to name but a few. The list is fairly endless and there's always someone wanting to graft The Chieftains sound onto their own.
And since forming in 1962, they've won six Grammys and been nominated eighteen times in their own right. That says a lot about their longevity and popularity.
This 1997 set from the Montreaux Jazz Festival features the 'classic' line up with the late Derek Bell (harp and piano)and the now retired Martin Fay (fiddle). The full line up includes Paddy Maloney (pipes, tin whistle), Matt Molloy (flute, whistle), Kevin Conneff (bodhran), and Sean Keane (fiddle).
And after 35 years on the road, The Cheiftains have it pretty much nailed and give their audience just what they want - an evening of traditional song, dance, sories, entertainment, and simple Irish charm.
The set opening medley of O'Neil's March/Rosin Dubh which for me, at least brought back some rock memories. Although I'm buggered if I can pinpoint exactly where. Most likely, Thin Lizzy or Horslips. But elsewhere, the set is strictly jigs, reels and traditional fare. Which, if you're a fan, is exactly what you'll be wanting. ***
****
Review by Pete Whalley