CHAD SMITH'S BOMBASTIC MEATBATS Meet The Meatbats earMusic (2009)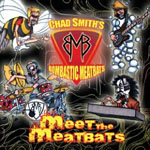 Described as 'instrumental music with a soul and sense of humour', 'Meet The Meatbats' does what it says on the tin. Chad Smith and keyboard player Ed Roth have obviously brought some of the Glen Hughes funky feel with them as they collide head on with tough guitarist Jeff Kollman and jazzy bass player Kevin Chown.
The result is a hugely enjoyable fusion album that might take its point of departure from the 70's, referencing the likes of Jeff Beck, and Billy Cobham, but there's so much creative and spontaneous playing going on that the band are never a prisoner of their funky fusion antecedents.
In fact towards the end of this 10 track sojourn the whole project almost imperceptibly shifts from spiky funky fusion to embrace Proggy undertones and even some Floydian melodic rock, with the all the component parts straining at the leash to make the most of a climactic finish.
But to begin at the beginning. Chad Smith's delightfully christened Bombastic Meatbats open with the fractured funk of 'Need Strange'. The band may rejoice under the drummer's moniker, but this is very much a creative team effort. For while Smith pounds away and pushes any number of grooves to their extreme, he's surrounded himself with heavyweight players who have a collective sense of where they are going, albeit via some enjoyable diversions along the way.
Keyboard player Ed Roth for example is not averse to mining some old George Duke style keyboard runs in between Jeff Kollman's Larry Carlton style guitar lines. But such is the diversity of material here that it's worth stressing the Meatbats are a contemporary fusion band in their own right.
On 'Oh! I Spilled My Beer', they construct a muscular groove which Chad Smith powers to its conclusion as the band members give each other enough space to fulfil their collective potential. Guitarist Jeff Kollman swaps a funky approach for some angular solos as the rhythm section pushes the front line players all the way.
The ghost of Jeff Beck looms large in Kollman's lead lines on 'Tops Off', on what proves to be a very derivative melody line, while the band settle for a more meditative feel - all modulation, sonorous tone and crisp cymbal work - on the opening part of 'Night Sweats'. Chad Smith enjoys some lovely interplay with Ed Roth as the band search out a powerful dynamic. The repeated riffs acts an anchor as Roth's piano goes off the radar and guitarist Kollman adds some spiralling solos on another lovely example of a live band enjoying themselves in the studio.
But as if to emphasize there is more substance to The Meatbats than mere thrashed out funky jams, the band show real restraint on 'Lola' as Kollman leads with his acoustic in tandem with Roth's mellifluous keyboard led melody. It is almost hard to believe hard to believe that it's the brusque Red Hot Chili Peppers' drummer Chad Smith contributing both brush strokes and a colourful percussive pattern. But then with the Meatbats, you can expect the unexpected, for this after all seems to be a project on which all the band members are enjoying themselves.
On 'Bread Balls' they get all proggy, teasing out a brooding melody lines with Jeff Kollman sounding like Robert Fripp from King Crimson's 'Red' era. Conversely Kollman offers more light and shade on the aptly titled 'Into the Floyd'. The piece opens with an Eric Gale style guitar line before Chad provides a powerful back beat and pianist Ed Roth expands the piece via some lovely floating languid piano notes that quietly build the tension as Kollman slips into Dave Gilmour mode. Who would have thought the Meatbats could have come up with such an epic piece; albeit one that resolves itself with a surprisingly tranquil ending.
The closing 'Status Spectrum' is a coda of the bands earlier fusiony effort, comprising more modular electric piano, angular guitar and a tic-toc percussive undertow. And while the brief familiar piano led Weather Report Riff is perhaps an acknowledgment of one of the band's main influences, there's enough stylistic diversity and spontaneous blowing to offset any danger of mere revisionism.
'Meet the Meatbats' is a thoroughly enjoyable album which for a side project, has many musical highlights, and is well worth purchasing.
****
Review by Pete Feenstra
---
| | |
| --- | --- |
| | Print this page in printer-friendly format |
| | Tell a friend about this page |