CAMEL The Snow Goose Universal (2009)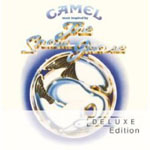 On the surface, an instrumental concept album based on Paul Gallico's sentimental children's book and performed by a band named after a lumpen dromedary that spits does not appear an inspiring prospect.
Certainly, horrified at having his allegory on the regenerative power of friendship and love set against a backdrop of the horror of war subjected to the strummed interpretations of long-haired layabouts, Gallico attempted to have this stifled in its nest back in 1975. He need not have worried himself so.
"The Snow Goose" is a serious labour of love, Camel shaping the book's narrative into a gentle and appropriately pastoral homage to Gallico's war-time novella in an enjoyable if now dated foray in melodic keyboard (Pete Bardens) and guitar-dominated progressive rock (with deft touches of flute here and there) from Andy Latimer.
Livelier little numbers mostly referencing characterisation and plot action are interspersed with simple yet effective scene-setting with memorably plangent tunes, sympathetically produced by David (Caravan, Genesis) Hitchcock.
Professionals both in and out of the studio, Camel were popular live and their spirited performances of this atypical oeuvre are celebrated in a pukkah package from Universal by way of plentiful bonus tracks culled from BBC Radio concerts, TV's The Old Grey Whistle Test and the usual smattering of single edits.
"The Snow Goose" placed at an admirable 22 in the album charts in 1975 but didn't fly off the racks smartly enough to justify further experimentation of this kind, and Camel brought back vocals and a broader rock sound to the following year's career highpoint "Moonmadness".
It really does not matter a jot whether you have read the book, "The Snow Goose" is a sweetly-memorable evoker both of Gallico's weepie and a peculiarly British music that is now gone.
****
Review by Peter Muir
Peter Muir presents "Progressive Rock Fusion" on Get Ready to ROCK! Radio, Sunday 19:00, Monday 19:00
---
| | |
| --- | --- |
| | Print this page in printer-friendly format |
| | Tell a friend about this page |