Getting close to genius...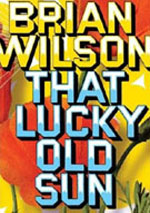 First things first, 'That Lucky Old Sun' is a masterpiece of an album (see review ). And as such, this DVD release is a triumph in generating enough insights, interviews and new live footage to make it a worthy additional purchase. And while Brian Wilson may not have the voice of old, it's amazing to find him so rehabilitated and at his creative best.
Seated in the semi-round with his band and mini orchestra (five strings and five horns) there are a few initial nervous smiles, almost part of a collective wonder as to whether he's going to make it through or not. But on the strength of the music alone - nicely rooted in early the early Beach Boys surf years (with a switch in emphasis from the present to the past) and linked by Van Dyke Parks narratives - Brian Wilson has come up trumps.
One minor drawback is that the linked narratives although cleverly represented by both cartoons and film footage archive stills, will never take the place of our own imagination. It's a little like the translation of a book into a film. But what makes this DVD an essential purchase is the accompanying documentary by George Dougherty which comes as close to anything so far to connecting with Brian's raison d'etre.
There are tightly edited and sometimes revealing snippets of both Brian and additional 'insider' views of his band. And the picture emerges of a re-born creative talent who after the belated completion of 'Smile' in 2004 has grown confident enough to undertake this brand new project. And among the talking heads and studio snippets there are a some telling moments as keyboard player Darian Sahanaja for example, feels Brian's music to be 'yearning to find a better place' and that Brian was 'a loner guy who had to create music because he felt alienated from society'.
There's also the view from Rollin Stoned magazine's David Wild who suggests 'Brian Wilson is for the post rock and roll generation, our classical music', while former Monkee Micky Dolenz feels Brian 'created a genre' and 'you can't just give up, you have to do this'.
Wilson himself also offers the occasional insight into his songs, with 'Oxygen to the Brain' for example, being regarded as 'the story of my life'. His creative collaborator/engineer Scott Bennett makes a case for this project as Brian 'coming full circle', while perhaps most significantly Brian himself admits that 'music is mentally emotional healing', further adding that he'd be at the piano and the melodies would follow, even though he didn't know where they came from.
'Lucky Old Sun' does indeed seem to be a healing process, which as Brian says concerns itself with 'capturing the mood of Southern California and the mood of LA in the 50's and 60's'. The fact that the album does this superbly as well as taking in both his relationships the ocean and people, contributes brilliantly to the myth of the Californian dream.
The overall picture is of a musical genius who often has a de facto musical vision in his head and so the rest of the documentary is really about the musicians and the means by which he is able to express his unique vision. The strength of the DVD is the way it teases out his working processes and the bridge building between an eclectic genius and his band and collaborator.
With some excellent bonus footage including some song by song explanations, additional concert footage (including Beach Boys numbers) and a Q& A session this really is a DVD for both completists and contemporary music fans alike. Unlike many similar projects 'That Lucky Old Sun' in DVD format is as an essential purchase as the CD before it.
*****
Review by Pete Feenstra