BOW WOW Reissues Rock Candy (2009)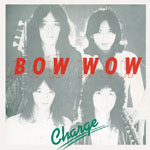 Until the mid 70s, Japan had largely been interested in native tongue music, but the success of several western bands there in the late 60s and early 70s, notably Deep Purple, Led Zeppelin and Grand Funk Railroad.
So of course things were going to change and one of the first exponents of Japanese hard rock sung in (reasonably) competent English was Bow Wow (later known in the 80s as Vow Wow with Neil Murray and a more commercial sound). Bow Wow were the point when Japan went from avid consumers of western hard rock to producers of too.
The 1976 debut Bow Wow (issued in the UK for the first time) features some fantastic guitar work from Kyoji Yamamoto, whose lines mix rock'n'roll, melodic hard rock and pop melodies all under a shroud of shred. The opening track 'Hearts On Fire' features some blistering work, while 'Brown House' features some neat and catchy rhythms. The album varies a little more after that, and the lengthy 'James In My Casket' nods at Hendrix. Mitsuhiro Saito and guitarist Kyoji share the vocals well. A good album, the first few tracks the strongest. The arrangements and production a little basic but the music is good. ***
The following year's Signal Time was more cohesive; and while it was a tad more commercial, it was just as blistering and certainly more solid. The drums and bass produced some good metal rhythms, while the guitar just got better and better; the band's guitarist was now on a world stage and Iron Maiden and Metallica have both signalled this album as an influence. The music leans towards solid British hard rock of Wishbone Ash and Ritchie Blackmore, with a guitar riffs that bite like a shark, with some phasing in the overlying guitar harmonies that were groundbreaking at the time. ****
Third album Charge, also 1977, continued to improve in the same way, with the all in sonic assault of the previous set with an increased maturity in the sound and songwriting. While the guitar shreds as much as ever, the bass lines are given a chance to shine through, a more all round sound. Still blistering. ****
Japan's love of live music is well documented (think Made In Japan), so Bow Wow's Super Live (1978) was another well received affair. Here the band are raw and energetic, with a very clear live recording. Arrangements are furious, with no chance to replicate the vinyl overdubs. The band's technical ability make up for that. 'Still' is a slower melodic number that lasts 11 minutes with the extended guitar solo - thoroughly enjoyable. ***½
All four albums very welcome outside of Japan and as usual with Rock Candy, well packaged with extensive sleevenotes and band interviews.
Review by Joe Geesin
---
| | |
| --- | --- |
| | Print this page in printer-friendly format |
| | Tell a friend about this page |