Proto metal pioneers captured forty years on...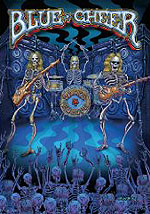 Heavy metal had its roots in Psychedelia as well as the blues, the proof being Blue Cheer, who recorded their debut album in 1968. This is beefed up solid west coast hard rock and more.
This is the only full concert recording by the band, and was filmed in 2008 for a German Rockplast performance in Bonn, in front of an enthusiastic crowd. These three wrinkled old men may not jump around the stage but the fretboard work is still frantic, the rhythms are still solid. The sound too is very heavy, and sludgy too. Take the finesse away from Steppenwolf, drag them through a hedge backwards, and then through the muddy field and beyond, and you get the idea. There is a connection with The Grateful Dead, without the jam workouts, and a similarity with Stray.
The main concert, running at nearly 90 minutes and 10 tracks, includes 'Babylon', 'Parchman Farm', 'Out Of Focus', 'Summertime Blues' and 'Hunter'. It's a fine performance, one fans will love. It's also good value with the amount of bonus material; notes, photos, rare recordings, commentary et al.
A very fine package, but this proto metal may not be everyone's cup of tea.
***
Review by Joe Geesin