BLAZE BAYLEY The Man Who Would Not Die Blaze Bayley Recordings (2009)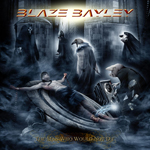 Anyone familiar with singer Blaze Bayley will know how good a vocalist he is. His voice is dark, deep and rich, even more so here, but is perhaps one reason why some didn't take to him as Dickinson's replacement in Iron Maiden. It's more solid here now than ever, sounding a good few divisions up from the old Wolfsbane too.
This is the first album under the Blaze Bayley moniker, with previous releases coming under the Blaze title.
The title track opens with aplomb, with a trad metal influence to what is intense power metal.
The duelling guitars mix well and the rhythms are solid. The vocals are a good octave or two below Dickinson, yet into the album (notably "Smile Back At Death" and "Samurai") there are bursts/hints of a Maiden gallop. There are also touches of Judas Priest (think Painkiller in a deeper range) and the gothic edge of Saxon.
There is some furious riffery in "Robot", the vocals punchy, the rhythms driven by some machine-gun drumming, so the metal tilts towards the extreme. "At The End Of The Day" nods at Maiden's quieter moments too.
Blaze has found his range (realised, found, you could argue either way) and, with the formation of his own label, is clearly answering to no-one. I genuinely feel this is his best album in a long long time and is genuinely worth checking out.
****
Review by Joe Geesin
---
| | |
| --- | --- |
| | Print this page in printer-friendly format |
| | Tell a friend about this page |