BLACK WIDOW Black Widow Live Mystic Records CD/DVD MYSCD666 (2009)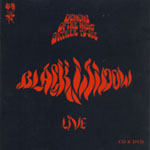 In those horny days of Hammer Horror, Dennis Wheatley and ABC Film Review there was a band who were providing their own complementary soundtrack.
Black Widow came up with a stage and album concept around the theme of Black Magic and released the controversial 'Sacrifice' on CBS in 1970. The band incurred the wrath of the popular press with a stage show that included some nudity. Needless to say their gigs were very popular with Joe Public.
Sadly, the launch of their debut album was stymied to a large extent by a confusion in punters minds between Black Widow and Black Sabbath, and a US tour was pulled in the wake of the notorious Manson killings. Bizarrely, Sabbath stepped in to replace them.
There followed some ill-fated subsequent releases, and an attempt to revive the 'Sacrifice' concept, but by 1973 the band had imploded and the world had moved on. Since this time, the band have attained cult status and Mystic have released their fourth album and an early demo for their CBS debut, 'Return To The Sabbat'.
Which brings us to this excellent archive release, a recording of the original line-up's last show when they appeared on the German Beat Club TV programme. The set list even surprised band member Clive Jones, (who supplies the liner note), when he realised this was indeed a complete recording of their 'Sacrifice' stage show.
And the music? Well, it's not as doom-laden as you might expect, more free-form jazz rock but with folky influences too.
'In Ancient Days', all fifteen minutes of it, shows that Black Widow were sometimes like a more musical Hawkwind, with Clive Jones' sax adding a jazzy feel although Zoot Taylor's keyboards evoke Deep Purple (on 'Sacrifice') or - more specifically - Vincent Crane's Atomic Rooster.
Bands such as Warhorse who occupied a funky hard rock space in the early seventies also come to mind as do late-sixties psychedelic rockers Quicksilver Messenger Service in the extended instrumental workouts.
From the opening church organ and the spoken word intro it's evident that this would work better in a live (and visual) context, and no doubt with the aid of some stimulatory substance, and thankfully we also have a bonus DVD.
The DVD is a real curio, with the idiosyncratic Beat Club visuals adding to rather than detracting from the concept. The visuals may seem a little tame by today's standards but as a historical item and piece of rock theatre, a gem. And before you ask, the naked lady prances around like Hammer vampire Ingrid Pitt in a see-through shroud. How the band maintain concentration through the climatic 'Sacrifice' beggars belief, but they all emerge with the band's credentials upstanding.
****
Review by David Randall
---
| | |
| --- | --- |
| | Print this page in printer-friendly format |
| | Tell a friend about this page |