BLACK SABBATH Reissues Universal (2009)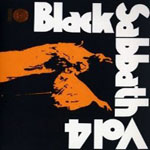 Following the multi disc expanded reissues of Sabbath's first three albums, the five remaining Ozzy era studio albums now get the digipak (sadly unexpanded) treatment, and what classics they all are. Yes all of them.
Kicking off with Volume 4, which is as essential part of any rock or metal record collection as anything, ever, you get the band still on a high. This 1972 album was the fourth since the 1970 debut, and with a change of production, the material was still spot on. The intro to 'Wheels Of Confusion' mixes space rock with metal but it's a riff-tastic monster from then on. 'Tomorrow's Dream' is another classic, which sees Tony Iommi add some intricate guitar work that makes the riff god pigeon hole seem a little unfair.
Even 'Changes', a piano / vocal track with strings, sounds good. Ozzy the balladeer? Well, it works here, and this original is infinitely better than the embarrassing abomination of a duet it became when he resurrected it with daughter Kelly. But proof that the arrangements were in the band's hands and working well. 'Supernaut' and the drug referenced 'Snowblind' are as classic as Sabbath ever got. Essential listening for the early 70s metal head and more. ****½
Equally essential is 1973's Sabbath Bloody Sabbath, a demonic riff monster if ever there was one. The title track has been covered aplenty, including by Anthrax, and although the later tracks aren't as heavy, there's melody to the riffs, solidity to the rhythm, and for all Ozzy's faults he still sounds on form here. 'National Acrobat', 'Sabra Cababra' and 'Killing Yourself To Live' all stand out, and there's the acoustic 'Fluff' for the change of pace. ****½
1975's Sabotage is often overlooked but features some classic moments. The band may have been based Stateside and drug fuelled, but from the opening 'Hole In The Sky' you know you're in for a treat. Iommi and bassist Geezer Butler do work well here. The short 'Don't Start' features some very neat acoustic picking that will confuse anyone expecting the riff monster, but that soon is readdressed on 'Symptom Of The Universe'. Crash Bang Wallop. ****
The album is a little more varied than previous efforts, which does reduce the effect, and the excellent 'Am I Going Insane (Radio)' (I love this song) does nod at a much more commercial direction.
The last album of the original run of Ozzy's tenure was 1976's Technical Ecstasy, after which Ozzy was fired (the drink and drugs affecting his performance and reliability). The album is often seen as a little controversial, so I will be too and stick my own two fingers up at the establishment. At the time Black Sabbath had their own internal and commercial problems, and this album is seen as a real change of direction and not of their classic sound. Maybe, but I defy anyone to not love the Sabbath riff opening to the leading track 'Back Street Kids'. Every band, without exception, produces at least one album that is not of their classic sound, that scares fans off, no matter how good an album it is.
This was the first in Sabbath's repertoire but here is more than enough here to make it a great album. Whether a commercial influence or other changes in the music scene affecting the band, it is more melodic, but the guitar work is fantastic (even if it's not the fuzz filled doom led riff machine of 5 years earlier). The piano led track 'It's Alright' is sung by drummer Bill Ward, who is also on form behind the kit for 'Gypsy' – even vintage Sab fans will love this track. 'All Moving Parts Stand Still' is a riff classic that should have taken the band into the next decade a few years early, and 'Rock'n'Roll Doctor' stands out too. ****
1978's Never Say Die say the sacked Ozzy return to the band, yet it would still be his last. Here are some great hard rock tracks, but the album is more of a mixed bag than any previous. The title track opens and is one of the band's best of the decade (it even saw the band play Top Of The Pops). 'Johnny Blade' features a good keyboard intro from Don Airey, it's a good track but a little disjointed. Ironic that one of the more commercial tracks in 'A Hard Road' should be a more consistent and enjoyable number than many. Some good moments, but overall the band tried to turn the decade and got it wrong. ***
All come with lovely digipaks, and booklets that feature excellent sleevenotes (with band involvement) and plenty of rare pictures. Sadly no extra tracks. Not expanding these was probably a financial reason – the idea of no live or demo material doesn't wash. However, these are the best editions so far and you can either update your collection or investigate from scratch. Either way, there are much much worse ways to spend your money.
Review by Joe Geesin
---