BLACK SABBATH Paranoid (Deluxe Edition)
(3-CD) Universal (2009)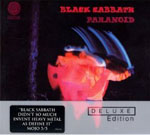 If you don't own this album, what are you doing here? It's as simple as that, really. Recorded when Ozzy was a metal singer, not a farcical caricature.
By September 1970, when this album was originally released, heavy metal had already been invented; between Sabbath's debut, Steppenwolf, Led Zeppelin and Deep Purple, the movement was well under way. This album, however, went an awful long way in defining it, setting the bar. The 4 band members were now a tight unit, and it took metal to the top of the charts too!
And although this is yet another remaster (the previous CD had the sound sorted over the appalling original CD issue), this is a good opportunity to bolster the collection.
As you all know, the album opens with 'War Pigs', a song originally written around a witch festival, with the tones of Vietnam War coming in later, kicks off with a doomy powerful riff and a scary siren. The track was originally intended to be the title track, but its political tones were considered damaging to the American market (where the debut had sold rather well), so in came 'Paranoid'. This was a last minute addition to the album, the original master tapes not even giving it a title, just labelled 'single'. That it was, and went top ten, taking the band to Top Of The Pops and the album to the top of the chart. The track was written and recorded quickly, but not as quickly as rumour says, as one of the bonus tracks is an alternate lyric version.
Further on, 'Planet Caravan' shows the band's roots being a more whimsical and spaced psychedelic sounding song, while the Marvel comic influenced 'Iron Man' reintroduces the riffery of the Sabbath debut. And if you're not already acquainted with 'Electric Funeral', 'Hand Of Doom', 'Rat Salad' or 'Fairies', which you should be, now's your chance.
This band were the original riff masters, from Ozzy's vocals to Ward's rhythms, from Butler's songwriting to Iommi's genre defining guitar, it's all here.
Two of the three discs here will be superfluous to most, with a DVDa containing the 1974 Quadrophonic mix in 5.1 Surround Sound, and a disc of alternate versions. One of each track (all 3 discs have identical track lists) mixing alternate lyrics and demo instrumentals. If there's scope for further expansion, it's here. The booklet adds loads of history and rare photos, and comments from Bill Ward and Ozzy Osbourne.s
Buy, enjoy, and crank it up.
*****
Review by Joe Geesin
---
| | |
| --- | --- |
| | Print this page in printer-friendly format |
| | Tell a friend about this page |