BLACK LABEL SOCIETY Reissues Armoury Records (2009)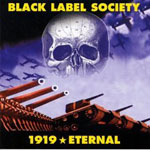 The latest tranche of BLS reissues comes at a time when we learn that Zakk Wylde is taking time out from his anchor position with Ozzy due to ill-health. It is therefore timely to take stock of his output since 2002.
This is the second round of BLS reissues starting with 2002's 1919 Eternal with several songs apparently rejected by Ozzy for the 'Down To Earth' sessions. On this album Wylde consolidated the metal-tinged-with-southern-rock he'd already cranked up on 'Sonic Brew' in 1999 and 'Stronger Than Death' in 2000. ***½
2003's The Blessed Hellride consolidated the band's earlier success and is a fan favourite and Ozzy appears on the track 'Stillborn.' ***½
Hangover Music Vol VI connects more in spirit to the earlier 'Book of Shadows' and is less frantic than its immediate predecessors. Jason Ritchie, in his original review, noted that there's more melody "but not quite Journey!". The piano-led version of 'Whiter Shade of Pale' confirms, if nothing else, Wylde's musicality.
For those who like some respite from the down-tuned pinched harmonic metal boogie 'Hangover' is a worthy entrée. ***½
It was almost a marking time project because by 2005 BLS had shifted labels and Wylde once again cranked up the boogie.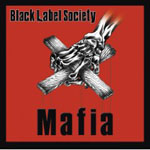 2005's 'Mafia' was more successful for the band in terms of sales. 'In This River' achieved greater significance after the death of Zakk Wylde's friend Dimebag Darrell and is featured regularly with a dedication in live sets. There's also a great version of the Lynyrd Skynyrd song 'I Never Dreamed'.
GRTR!'s Emily Dgebuadze noted when reviewing the album in 2005: "An added attraction of this album is the number of solos we are treated to by the man shredding the only LSD-inspired guitar in the business, something that was, in retrospect, lacking from albums, such as '1919 Eternal' and 'The Blessed Hellride'. ****
It was inevitable that, with the move to Artemis, the previous label would release a compilation. Kings of Damnation 98-04 in 2005. It is the best way of introducing the music of BLS with tracks drawn from all albums to date plus four Zakk Wylde tracks that pre-date the band including 'Pride & Glory' (1994) and 'Book of Shadows' (1996). ****
There are no bonus tracks or material with these reissues but they do reiterate the importance of Wylde in metal over the last decade, not least as a foil to Ozzy. We wish him a speedy recovery.
Review by David Randall
---
| | |
| --- | --- |
| | Print this page in printer-friendly format |
| | Tell a friend about this page |