BLACK JOHN The Soul Of John Black Electogroove EGR CD 504 (2009)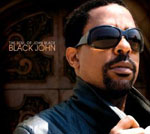 John Bigham a.k.a. Black John has the voice and musical history to live up to his self professed celebration of African American musical heritage. With a CV that includes Miles Davis, Fishbone, Dr. Dre and Eminem, JB is well positioned to front an album 'The Soul of John Black' that traces the musical links between blues, funk, soul and hip hop. And John's talent resides in bringing together a coterie of top musicians to get the best out of his rootsy mixture of songs which are given full expression by his rich, earthy baritone.
Over half of this impressive album is rooted in funky grooves of various denominations. There's the hypnotic guitar led groove of the opening track 'Black John' on which JB gives full reign to his dark treacle voice, before he settles into a reggae groove and a telling hook on 'Betty Jean'. And from thereon in he works a magical spell on a languid funky outing 'Ever Changing Emotions'. It's a lovely, laid back, languid affair which is energised by his rich dark voice and is neatly followed by an acoustic layered, gospel tinged groove on 'Forever'.
JB is not averse to a bit of risqué humour along the lines of 'White Dress (Black Drawers' and evokes Percy Mayfield on the soulful ballad 'Never Giving Up'. And just when you think you have grasped his stylistic measure he throws in some heavy duty slide, some further soulful voicing and reflective lyrics on the magnificent 'Better Babe'.
The interesting thing about Black John is that he pushes the boundaries of his genres and as a consequence finds new avenues for an awesome voice and that sets him apart from many of his peers. And yet he's not above an occasional Al Green style love song as on 'Holiday Inn', almost as if to suggest he's covering the waterfront including any commercial possibilities.
In fact the whole album surprisingly finishes with John slipping into falsetto mode on a tender acoustic based love song 'Thinking About You'. This is indeed Afro American roots music, but very few artists attempt it with such a wide variety of styles and with such conviction.
'The Soul of John Black' is a fine album by a wonderful singer worthy of further exploration.
****
Review by Pete Feenstra
---
| | |
| --- | --- |
| | Print this page in printer-friendly format |
| | Tell a friend about this page |