The bearded matchstick who doesn't say much...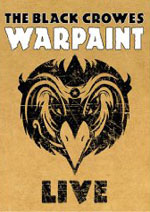 The Black Crowes have been a long touring and recording hard rock band, mixing blues and rock'n'roll in an almost Southern Rock style. With 20 million record sales, I guess they could be called popular as well as enjoyable.
This DVD, as the title suggests, showcases the 2008 album Warpaint in its entirety. Full album themed concerts have become a popular trend, and it certainly goes down well.
Opening with 'Goodbye Daughters Of The Revolution', the bearded matchstick Chris Robinson provides strong vocals. With a piercing look from goggley eyes, and waistcoat, he may cast an odd look but it's certainly captivating; with his movements he's almost Joe Cocker-like. Brother Rich provides some mean slide guitar too. The twin guitar plus keyboards line-up (almost obligatory for a Southern Rock band) gives you a solid sound, with scope for a right old racket.
This performance shows how good the Warpaint material is, even if Chris isn't the most talkative frontman. He and Rich do, however, enjoy the odd dance, and when Chris picks up a guitar the sound gets even bigger.
Eleven tracks down and it's onto other material, including 'Poor Elijah/Tribute To Johnson', 'Bad Luck Blue Eyes Goodbye', 'Torn And Frayed' and 'Hey Grandma'.
Music, performance, photography all excellent. But like I said Chris could chat more. A LOT more. That said, if you like the band you'll like this. The music nods at Skynyrd at times, so it's all good rock'n'roll.
****
Review by Joe Geesin