Idol by name but not by nature...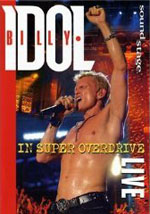 Filmed in July of this year and broadcast on US TV show Soundstage, the show includes classic solo singles, Generation X numbers, a couple of tracks from Idol's most recent album 'The Devil's Playground' and even a couple of new tracks - not bad in a set lasting just over an hour.
Billy Idol does not look 53 and performs with the energy of a 25 year old throughout the show. His current backing band are solid, tight and help to keep the songs sounding as fresh as they did when they were originally released.
Long-time musical partner and guitarist Steve Stevens tears his way through the set, including some Hendrix style behind the head playing during 'White Wedding'- a song that Idol introduces with the words 'Steve- show them what a hit song sounds like' before the band let rip. 'Flesh For Fantasy', 'Dancing With Myself' and 'Eyes Without A Face' sounded as good as they did in 1984, as did 'Rebel Yell' which was introduced as the new American anthem.
The Generation X tracks 'Ready Steady Go' and 'Kiss Me Deadly' also make an appearance. There are 2 new tracks 'Cry' and 'Touch My Love', which hopefully means that the band are working on a new album.
Throughout the show Idol has the audience, particularly the women at the front, in the palm of his hand and they hang on every word. As live performances go, this is a great show and is a reminder of what a good performer Billy Idol is.
****
Review by Nikk Gunns