BIG BIG TRAIN The Underfall Yard (2009)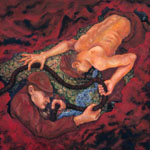 UK based progressive rockers return with their sixth studio album and the first with new vocalist David Longdon, who fits seemlessly into the band's sound. There are some special guests including ex-XTC guitarits Dave Gregoy, Jem Godfrey (Frost*), former It Bites frontman Francis Dunnery and Spock's Beard drummer Nick D'Virgilio.
Starting off with the instrumental 'Evening Star' works well as the band flex their musical muscles delving into that classic 70's prog sound of Genesis along with some strong brass interludes. 'Master James Of St. George' features a couple of enjoyable guitar solos and again the band mix classic prog rock sounds with their own modern take. They have the knack of appealing to fans of the 70's bands without becoming mere copycats and have enough of their own sounds to draw in the newer prog rock fans. 'Victorian Brickwork' sounds like IQ, in the vocals as well as the music albeit with less on the keys/synths.
'Last Train' and 'Winchester Diver', both based on true stories keep the momentum going but it is the epic title track that really impresses. Francis Dunnery, Jem Godfrey and Dave Gregory all appear on this one and listen out for the inventive use of brass again. Like the opener 'Evening Star' this song sees the band go down many experimental musical routes whilst never losing sight of the melody.
The band's last album 'The Difference Machine' gained rave reviews and rightly so, but the band have surpassed this and for well played, enjoyable progressive music look no further.
****½
Review by Jason Ritchie
---
| | |
| --- | --- |
| | Print this page in printer-friendly format |
| | Tell a friend about this page |