BEGGAR JOE Beggar Joe (2009)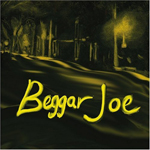 Produced by Al Stone, the man behind Jamiroquai's 10 million selling album Travelling Without Moving (Who buy's Jamiroquai? I've never met anyone who's admitted to it.) the eponymous debut album by this Manchester quintet is being labelled 'unmissable'.
And in a way, it is.
Formed at Salford University and honed on the streets, bars and cafes of Manchester, the word 'quintet' also drops a subtle hints that Beggar Joe are not just another Manc indie 5-piece. Far from it.
With a line up including [predominantly acoustic] guitar, double bass, keys, drums and percussion, Beggar Joe the band, and Beggar Joe the album are difficult to pigeon hole. But in broad terms they fall into the blues / jazz genre, tempered by a side salad of rock and soul.
The opening clutch of numbers (Puppet King, Sleeping City and Evil Overcomes) set the vibe for the set - finger picking guitar work, prominent double bass and most distinctive of all, frontman Jon Kenzie's warm throaty vocals. Delta blues oozes from your speakers with a modern day authenticity Paul Rodgers never quite pulled off on Muddy Water Blues.
The whole record has 'late night / early hours' stamped indelibly through it. But Beggar Joe aren't a one trick pony and they stretch their legs beyond the southern Delta into jazz tinged gospel soul balladry (Mind Strays), Rob Thomas / Santana (minus lead guitar) territory (Time Is Now) and even Jamiroquai's own backyard (Ain't No Way). The latter is probably the most infectious track on the album.
The production deserves a special mention. Warm and rounded, you can hear every note, breath and nuance. It's a brave and impressive debut built around Jon Kenzie's distinctive vocals that's aimed well away from the mainstream with a foot on either side of the line that divides Melody Gardot and Sade. I suspect it will polarise opinion. Too cultured for some, simply 'super cool' to others. Me, I'm still undecided. But you can't help but admire the quality.
***
Review by Pete Whalley
---
| | |
| --- | --- |
| | Print this page in printer-friendly format |
| | Tell a friend about this page |