ASTRA From Within Lion Music (2009)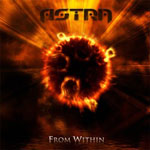 Astra are an Italian progressive metal band who formed back in 2001 and were originally an instrumental band. They have now hooked-up with Lion Music and are definitely a band to explore further.
Although much of the music on here is your standard prog metal music Astra do have more to offer. Check out the immense ballad 'Never Say Goodbye' where vocalist Titta Tani comes into his own. Backed by piano and quieter instrumentation this song features spot on harmonies bands like Styx or Queen would be proud to call their own!
For all out metal riffing coupled with fast keyboard soloing check out the opening song 'Over The Hills' or the album's epic track 'Hypocrisy'. Both are examples of top draw prog metal music.
'Memories Remain' with its heavy breathing intro delves into classic Queensryche territory and allows the rhythm section their chance to shine. Good production throughout although one minor quibble are the rapid fire drums on some songs which sound a bit too fast for a drummer.
Lion Music do it again and bring us another fine progressive metal release and one which will have wider appeal due to the band's more melodic leanings in the songwriting department.
****
Review by Jason Ritchie
---
| | |
| --- | --- |
| | Print this page in printer-friendly format |
| | Tell a friend about this page |
***** Out of this world | **** Pretty damn fine |
*** OK, approach with caution unless you are a fan |
** Instant bargain bin fodder | * Ugly. Just ugly
get ready to rock is a division of hotdigitsnewmedia group