ART OF INFINITY Endless Future BSC Music (2008)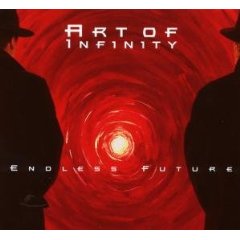 Art Of Infinity formed over a decade ago, fusing electronica, ambient and progressive elements with a debut album released in 2000.
The third album 'Endless Future' continues the formula, blending classical, rock and ambient. It's predominately instrumental but the vocals never intrude - at times a tribal chant, sometimes a choir or - more rarely - spoken word. A mournful cello here, a lush synth there, a Jan Garbarek-style sax and the occasional Gilmour-esque guitar break, everything is in its place.
It feels like a soundtrack to a widescreen otherworld movie and will appeal to anyone who likes the more trippy elements of Floyd, Marillion and Eloy whilst owing a debt to fellow countrymen pioneers, Tangerine Dream.
In a quick-fix, time-poor world, 'Endless Future' demands some investment from the listener. Thirty five years ago we'd have been listening to this sort of thing, recumbent on a bean-bag in the local Virgin store. As it is, you'll now need to plump up the cushions, ease off the slippers, and dim the lights for the full experience. You won't be disappointed.
Thorstein Sudler-Mainz and Thorsten Rentsch have fashioned a quite sumptuous album that maintains a contemporary and original feel and is not as insipid as much 'new age' material. Intriguing and quite addictive.
****
Review by David Randall
---
| | |
| --- | --- |
| | Print this page in printer-friendly format |
| | Tell a friend about this page |