ANTHRAX Caught In A Mosh - BBC Live In Concert
Island/Universal (2009)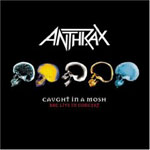 Double live CD of Anthrax from 1987 when Joey Belladonna fronted the band for the first of his two stints in the band. Looking at the credits this CD came out in 2007 originally, presumably to celebrate twenty years since the original gigs, so not quite sure why it is being released again.
CD2 features their 1987 Monsters Of Rock set at Donnington and I can say 'I was there'. I did enjoy the set on the day I seem to remember but time hasn't been kind to some of these songs like 'Medusa' although 'I am The Law' and 'Caught In A Mosh' still sound good. I also went to see the band on their UK headlining tour at the Viccy Hall in Hanley (supported by King's X if memory serves me correctly) and from this tour CD 1 has the Hammersmith Odean set. Slightly longer than the Donnington set, it adds a couple of highlights in a thrashed up cover of 'Sabbath Bloody Sabbath' and 'Metal Thrashing Mad'. The sound quality isn't the best at times but then this is thrash metal and not a genre where you sit around listening intently to the sound!
Of the thrash metal bands I enjoyed in the late 80's only Metallica and Megadeth still keep me interested, Anthrax sadly were a band of their time for me. That said I am sure their many fans will enjoy this double live set as a reminder of a time when they were big news and all over magazines like 'Kerrang!'.
***
Review by Jason Ritchie
---
| | |
| --- | --- |
| | Print this page in printer-friendly format |
| | Tell a friend about this page |
***** Out of this world | **** Pretty damn fine |
*** OK, approach with caution unless you are a fan |
** Instant bargain bin fodder | * Ugly. Just ugly
get ready to rock is a division of hotdigitsnewmedia group