ANIMAL KINGDOM Signs And Wonders (2009)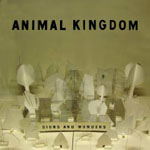 Animal Kingdom fall into that rare category - a new band who write catchy pop/rock songs packed with melody, hooks and choruses.
Royworld demonstrated that ability last year with their excellent debut album Man In The Machine. Now, London based four piece Animal Kingdom - Richard Sauberlich (vocals), Wayne Yardley (guitars), Hamish Crombie (bass) and Geoff Lea (drums) - look set to follow in hot pursuit.
Recorded over a six week period in Seattle with Phil Ek (Fleet Foxes), the release of Signs and Wonders was preceded by the release of two included singles - Chalk Stars and Tin Man. The title track is also released to coincide with the album's release.
Richard Sauberlich's vocals fall in a similar sphere to those of Paul Simon (or perhaps even Jon Anderson) and while the twelve song set initially seems somewhat 'one paced' at times, Mephistopheles would not have been out of place in 1970 had it been appended to King Crimson's Lizard (is that a mellotron I hear?), while Yes Sir, Yes Sir brings The Doors to mind.
But overall, the set is packed with jangly guitars and catchy melodic pop / rock. If there's likely to be a criticism, it's no doubt going to be that this is 'blue collar' rock (rock in the vein of REM, Coldplay or Snow Patrol, although perhaps more overtly commercial). So you get to hear all the instruments, and the vocals are sung not shouted. Which means Animal Kingdom can perhaps expect a cold shoulder from the NME circuit. But in this reviewer's opinion, that's strength, not a weakness. An excellent debut, and one to watch.
***½
Review by Pete Whalley
---
| | |
| --- | --- |
| | Print this page in printer-friendly format |
| | Tell a friend about this page |