ANGUS CLARK Your Last Battlefield www.angusclark.com (2009)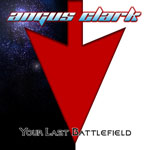 Angus Clark lends his guitar talents to Trans-Siberian Orchestra and Anna Phoebe's solo albums amongst others and this is his debut solo album.
Clark is a tasteful player and opener 'Upon Arrival' reminds me of the sort of thing John Jorgensen would have done with The Hellecasters. It has that uplifting and accessible chorus and immediately involves the listener. On the other hand 'Festival', sounds like Satriani mixed with Gary Glitter. 'Scalosian Water' and 'I Am Kirok' are two highlights, both busy and engaging with Clark always in control.
Clark's influences are old school, nothing wrong with that, and this album reflects his essentially melodic approach. Anna Phoebe appears on two of the tracks ('Burning Cities Of Cheron' and 'The Dohlman's Tears') and they happen to be two of the standouts, Anna's violin providing an expressive counterpoint to Clark's plangent guitar figures. Another song, 'Phoenix Hotel', appeared on Phoebe's mini-album 'Gypsy'.
If there is one niggle, I think the production could be beefed up in places, in particular the harmony guitars, keyboards, and rhythm giving the whole more punch, and greater urgency.
Clark's album is refreshing in its approach and will surely appeal to guitar lovers who like their guitar played straight, with a distinct absence of the over-stated. Most tracks clock in at less than four minutes. In that respect, 'Your Last Battlefield' is an exercise in economy and a lesson for everyone that less can indeed be more.
****
Review by David Randall
---
| | |
| --- | --- |
| | Print this page in printer-friendly format |
| | Tell a friend about this page |