ALONEME Sketch (2008)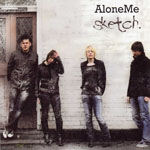 In the late 1980s/early 1990s two of my all time favourite groups burnt brightly for a brief period before hitting a submerged iceberg labelled 'wrong place/wrong time' and slipped silently beneath the waves.
What carved out River City People and JJ from the pack was timeless songwriting and female singers who could make the hairs on the back of your neck stand up. No-one was interested at that time in purveyors of quality melodic soft pop/rock. Even the inventors of the genre - Fleetwood Mac were swimming against the tide and there was no place for those who might have attempted to follow in their footsteps.
I've heard little to compare since, although in recent years there's been a quiet resurgence of the genre with some real quality output from the likes of Thea Gilmore and a reinvigorated Judie Tzuke.
Which brings me neatly around to AloneMe - a band that look set to continue this great tradition. Originally formed in 2003 by singer Sarah Springett and singer/guitarist Dave Booth, the Essex-based quartet were joined by Simon Edgoose on drums/programming, with singer/ multi-instrumentalist (piano/ cello/ flute/ bass) Liz Townsend finally completing the line up in 2007.
Between the summers of 2006 and 2007 the band decamped to the Loft Studios in Liverpool with producer Nigel Stonier (Thea Gilmore, Brian Houston, Rod Clements) to put together Sketch, their debut album.
And I'm happy to report that it's a gem.
What would, in days of yore, have been 'side one' is particularly strong - five acoustic based numbers that burrow deeper into the subconscious with every listen.
Can't Wait broods, Bulletproof is one of the finest songs I've heard in many a year with a lovely piano line, Do Not Disturb caresses, Hungry Someday is another standout, while Gone Away is silky in its delivery. Throughout, Sarah's vocals embrace with an aching beauty.
Side 2 is more of a mixed bag, kicking off with Start Again - an uptempo Roxette meets Thea Gilmore style duet, Find What Lies is more soft pop rock par excellence, Hold Me Down another dreamy number, Dave takes lead vocals again for the up tempo, jangly guitar led, Flow Up Hill, while the ballad Over Half Way Home brings the album to a close in style.
For anyone with a penchant for classic female fronted singer songwriter soft pop/rock, Sketch comes with an unreserved recommendation. Great songs and great vocals that will stay with you for years to come. AloneMe beat your Duffys and Adeles hands down.
****
Review by Pete Whalley
---
| | |
| --- | --- |
| | Print this page in printer-friendly format |
| | Tell a friend about this page |