WALTER BECKER Circus Money Sonic360 (2008)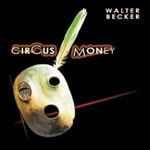 Back in 1982 when Walter Becker's Steely Dan partner Donald Fagen stepped out with his own solo album 'The Nightfly', critics immediately jumped to the conclusion that it was Fagen who provided the signature Dan style. To say his partner Walter Becker took his time to establish his own solo credentials is to understate the case hugely for it wasn't until 12 years later that Becker made his own mark with '11 Tracks of Wack', and even then it was co-produced by his Steely Dan partner.
A further 14 years later and Walter has seen fit to once again dip his toes into another solo outing. And guess what? 'Circus Money' also sounds like a Steely Dan project, albeit with some heavy reggae influences and occasional touches of familiar jazz fusion.
But clearly Becker has belatedly set out his own stall. 'Circus' is a much more organic record than much of Steely Dan's output, and that is undoubtedly a result of the band approach to the album. In fact the band features a number of familiar faces to Steely Dan fans, and as Walter is quick to point out, the whole project was recorded along the lines of trying to follow the feel and groove, with not a click track in sight.
Set against the usual metronomic accuracy of a Steely Dan album that is quite a revolutionary approach, though the album as a whole doesn't in truth diversify too far from its initial parameters of working a groove and exploring different tempos within a reggae back beat.
Becker himself fills in on bass, and lays down some sumptuous lines alongside peerless drummer Keith Carlock. Guitarist Jon Hetherington is both intuitive and tasteful in his reading of his parts and the twin keyboard input of Ted Baker and Jim Beard drift in and out of the pieces with an intuitive grace born of a total understanding of Becker's material. And just so we don't stray too far from the Dan style there's the jazzy touches of sax man Chris Potter to give the project a late night New York feel.
And perhaps the thing that sets Becker's own style aside from far too many overplayed jazz fusion projects is his delightful use of highly original narratives that conjure up some delightful scenarios both real and imagined and further explore relationships and characters, often seemingly doomed to gloriously failure in one way or another.
It's almost as if Walter's shift from guitar to bass reflects the laid back and languid feel of his words which somehow perfectly match his world weary voice. But rather than slip into a one dimensional groove he is smart enough to let the material breath. So while the imagined Soho loft scenario of 'Downtown Canon' and the closing 'Three Picture Deal' come close to the sophisticated Steely Dan style, there's enough other highlights to make the listener come back again and glean more with each repeated play.
'Paging Audrey' for example, teeters on the brink with Walter's croaky voice barely carrying the song, before the unusual twists and turns of its jazz inflected groove and unusual chorus make it a real delight. Similarly the vague New Orleans feel of the title track, born of a shuffle beat and accentuated bass lines come as pleasant surprise while Becker's producer Larry Klein lets things develop naturally on 'Do You Remember The Name', on the back of an insistent reggae beat and impressive double vocal lines.
And while Walter explores several shades of reggae throughout the album, there are enough tempo shifts - as on lyrically evocative 'Somebody's Saturday Night' - (and wonderful harmony signing with Carolyn Leonhart-Escoffery on 'Darkling Down') to retain our interest.
Indeed 'Circus Money' is a cool album in so many ways, reflecting the understated feel of Becker himself, and the intuitive work of his production partner Larry Klein who cleverly allows the nuances to develop. And quite simply what you are left with what you are left with is a 'feel good' album for urbane roots rock and jazz fans alike!
****
Review by Pete Feenstra
---
| | |
| --- | --- |
| | Print this page in printer-friendly format |
| | Tell a friend about this page |