Just witnessed your best live gig?..send us a review!
THE STORYS
BBC Club, London 4 March 2008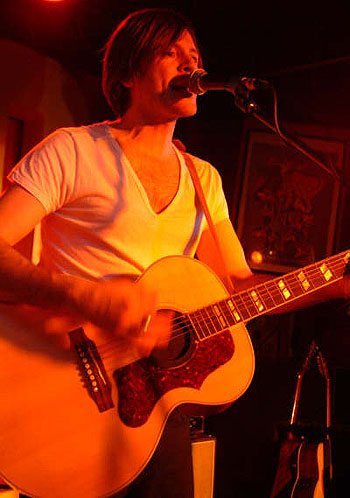 South Wales' finest The Story's give lie to the notion that the twin staples of close harmonies and well crafted pop rock songs have no place in the contemporary music scene. For as this special 6 song album showcase at London's BBC Club demonstrated there will always be room for great songs and new creative talent. And clearly The Story's have an abundance of both.
Promoting the forthcoming 'Town Beyond The Trees' album, this select media junket was also in effect a gentle reminder of the band's fast growing reputation, ranging from being championed by Radio 2's Bob Harris to high profile support slots with the likes of Elton John and Joe Cocker and even a cameo role in the forthcoming film 'The Bank Job'.
Perhaps a bigger question for the band will be how their west coast tinged pop-rock sits with a younger audience and on the evidence of six core tracks they are in with a good shout. Yes there is an undoubted AOR feel to their songs and in an age when the likes of the Eagles are once again demonstrating their enduring box office prowess, there is an obvious niche for The Story's blend of four part harmonies, undulating melodies and strong hooks.
Above all, in the shape of Steve Balsamo they have not only a strong songwriting front man but also a talkative charismatic figure who never baulks from putting across the message of a song.
About the title track of the new album for example, Steve explains it as 'a lament to our fathers', adding 'some of us have just become fathers and there is no template'. He impressively used his high register almost ethereal voice as an extra instrument, impressively delivering every nuance of the track without any studio trickery.
Indeed given the complete lack of venue production, save for a vocal PA, one of the band's most impressive traits was the way they filled the room with their soaring harmonies and subtle instrumentalism. By the end of the brief set you felt as if you'd known all these songs before you stepped into the building.
The forthcoming single 'Long Hard Road' is pure west coast in its musical structure and imagery and is the killer song that The Eagles never wrote. It features Steve's Jackson Browne style emotive lead vocal line and some cleverly layered harmonies over a tic-tock drum pattern and the kind of killer hook that is surely destined for copious amounts of radio plays.
The Eagles also came to mind on the equally impressive closing mid tempo rocker 'Evangeline', suggesting the band have a well of harmony laden songs in their locker. Above all The Story's seem to be a band for who a sense of democracy works well with guitarist Rob Thompson and fellow lead guitarist Dai Smith sharing some lead vocals although Steve B was never too far away from centre stage while adding some impressive backing vocals to help fill out the band's luscious sound.
Above all the front line singers also share in the song writing process and you suspect results are exactly what the band set out to achieve. There's a lot of expectation riding on The Story's, from their decision to release the new album on their own label to the current levels of media interest in the band. And while The Story's view their 70's antecedents as a touchstone for great music, if this showcase is anything to go by they have plenty of that west coast magic of their own.

****
Review by Pete Feenstra, photos by Noel Buckley
Interview 5.02.08
---
| | |
| --- | --- |
| | Print this page in printer-friendly format |
| | Tell a friend about this page |