THE CLASH Live At Shea Stadium Sony/BMG (2008)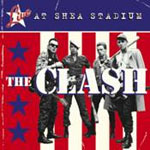 London punk / rock-pop and a live recording that could become a legendary if essential release.
Recorded at the Shea baseball stadium, New York in 1982, The Clash supported The Who there on two nights, on one of the latter's many farewell tours.
Supporting The Who will guarantee you publicity and a fair audience, but judging by the response here there could have been as many turn up to see The Clash as The Who.
A legendary performance, recorded by Glyn Johns, the tape of this the second night was unearthed by the late Joe Strummer while moving house.
Anyway, after the intro the set opens with "London Calling" to a rapturous response, and "Police On My Back" goes down like everyone's personal anthem.
Plenty of banter too ("Stop talking at the back", "if you keep moving you won't get rained on so much") make for a decent set, more than just a 'greatest hits live'.
"The Magnificent Seven" and "Armagideon Time" more than fill the space, and "Rock The Casbah" is treated like the classic it is.
The complete 15 track set, each track succinct and punchy, with some good guitar work, although the mix is slightly vocal heavy.
Definitely adored by the New York crowd. And what better way to finish than "Should I Stay Or Should I Go" and "I Fought The Law".
London calling indeed.
****½
Review by Joe Geesin
www.joegeesin.com
---
| | |
| --- | --- |
| | Print this page in printer-friendly format |
| | Tell a friend about this page |