THE BELIEVERS Lucky You Cora Zong CRZ 255 106 (2008)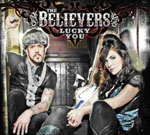 While it may be tempting to pigeon hole Seattle's The Believers as a West Coast influenced rock pop outfit referencing the likes of Buckingham/Nicks, their undoubted country undertow equally recalls the style Linda Ronstadt, Emmylou Harris and even The Byrds (listen to Craig's lead vocal on the bonus track 'Railspikes & Shotgunshells' and the jangly guitars of 'Long Way To Heaven').
But 'Lucky You' is a well crafted album that refuses to pander to any particular genre and cuts a swathe through country roots rock with some intelligent lyrics, great playing and an edge that keeps their material on the interesting side of Americana. And hell, if you are going to start from a country base you might as well throw in a few good hooks to match some great harmonies and inspired playing.
Where The Believers score is with a number of their impressive vocal duets which although undoubtedly influenced by their recent Nashville tenure, are not restricted by the country music envir onment. A combination of biting lyrics and musical twists and turns push the band into musical avenues that are never predictable.
If anything the west coast feel holds sway especially on the opening the title track which is a hard riff driven effort with a big drum sound topped by a searing vocal from Cyd Frazzini who finds the perfect foil in co-vocalist and guitarist Craig Aspen.
It comes a no surprise that Americana and West Coast fan DJ Bob Harris has been raving about the band, as at times they do dip into Fleetwood Mac territory as on the acoustic soft rock and harmonies of I'm Only Dreaming'.
On the gospel tinged 'Higher Ground' - all mandolin and post Hurricane Allen New Orleans imagery - Craig adds the toughest guitar line that would never find a home in traditional Nashville fare. On the following 'Mother Nature' The Believers offer uncompromising biting lyrical intent on the self explanatory 'Mother Nature' in sharp contrast to the accompanying classic country har monies.
The big question with an album like this is where The Believers will find their niche. In many respects they seem to be in the same boat as the early career REM who built their subsequent success on the back of college radio, and you suspect that some of the lyrics and cutting edge music might hold the same appeal. And while the band can toughen things up as on the crunching rock riffs of 'You've Got Another Thing Comin' they are smart enough to keep one eye on commercial possibilities.
With songs like 'Who's Your Baby Now?', which starts with a processed voice and leads inexorably into a killer radio friendly hook, they show they have the ability achieve their goal. Given the steady stream of meaningful relationship narratives and some effortless muscianhsip, The Believers look well set to break out of their chosen Nashville and embrace an altogether wider audience.
****
Review by Pete Feenstra
---
| | |
| --- | --- |
| | Print this page in printer-friendly format |
| | Tell a friend about this page |