Forbert proves you can't beat a good song...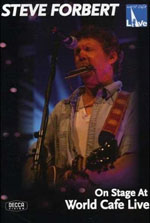 Nashville based, Mississippi born Steve Forbert is the kind of singer song writer whose songs draw you in, whose sentiments often hit a nerve and whose lyrical observations touch on everyone's real life experiences.
He cuts an unassuming figure who delivers his words in a husky voice with occasional Dylan style harp accompaniment. In many ways he is the ordinary man's poet, a man whose unpretentiousness includes garbled intros as he battles successfully to tune his guitar, or takes a few steps back to find a harp in the right key.
In fact he undertakes just about any kind of on stage activity that falls short of addressing his audience full on. But despite his seeming unease in the spotlight he's got his own relaxed style and during the course of this intimate soirée in the company of fine keyboard player Paul Errico, Steve makes a real connection with his audience.
Like many before him Forbert's artistic sensibilities have been severely trodden on by a music industry that dumped him as soon as his commercial success dipped, leaving him with years of legal problems. Unperturbed he's continued his solid if unspectacular career with consistent gigging, and after a recording hiatus of some six years or so he's maintained a steady output of albums full of relationship and love songs, observational narratives, and occasional outright gems like the Randy Newman style 'The World is Full of People'.
The latter turns out to is one of the highlights of the set while Steve also receives a warm response for his cover of 'Starstruck', a song attributed to him but one that surely came from the pen of Ray Davies. Forbert has a common touch that can readily whip his audience into whoops hollers as he spits out the lyrics to 'What Kind of Guy', a wry look at all our foibles. Not as worldly perhaps as Dylan, but certainly more palatable than say Kristofferson and perhaps with more commercial appeal than say John Prine (another artist similarly tagged as the new Dylan), Steve Forbert is probably as happy now as he ever was when he achieved commercial success with 'Romeo's Tune' (also included here).
In the long run he's stuck with what he's good at, being a wry wordsmith with an ability to connect with the people that have loyally stuck with him for nearly 30 years. In truth this 'On Stage at World Café Live' DVD probably won't change anything in his career. Rather, it's a quiet reaffirmation of the kind of talent that has steered a steady course through all the fluctuating changes in the industry, to prove that when it comes down to it, you can't beat a good song.
***
Review by Pete Feenstra