St GEORGE'S DAY MASSACRE
SAXON / GIRLSCHOOL / SWEET SAVAGE
London, Shepherd's Bush Empire
23 April 2008 (St George's Day)

To celebrate St George's Day (something we should do more often), this very English event raised a fair crowd, but midweek at this venue was hardly ideal. And having the nearest Central Line tube station closed for 9 months may be a very British thing but was even less ideal.

The evening opened with reformed NWoBHM band Sweet Savage, who played a competent if occasionally cluttered metal; good but without the panache or class of, well, Saxon or Girlschool. Their 1981 single "Take No Prisoners" went down well, as did "Killing Time", which was later covered by Metallica.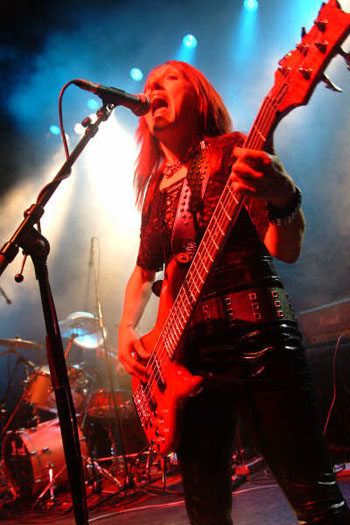 Enid Williams, Girlschool (Photo: Noel Buckley)
Against the odds, Girlschool came on and put on a damn good show. Sweet Savage had borrowed their equipment and run down the batteries in the tuner, and there had been no time for a soundcheck either. St. George may have slain the dragon but he couldn't conquer these gremlins. That said, when they got going, "C'Mon Let's Go" is always a crowd pleaser.
Guitarist Kim McAuliffe and bassist Enid Williams shared vocals, while Jackie 'Jax' Chambers produced some great solos. Denise pounded the drums as hard as ever. Girlschool make rock'n'roll fun, they play with honesty, a smile, a touch of anthemic glam, and a few laughs between songs too. Even Jax's drumstick induced broken nose couldn't stop them.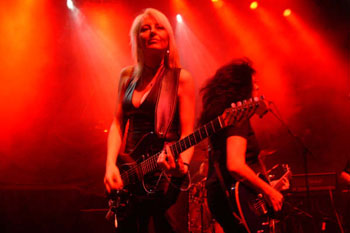 Sadly the set was limited to 30 minutes, so the early hits had to suffice; "Hit And Run", "Screaming Blue Murder", "Race With The Devil" (a storming single) and "Emergency" amongst others, this was a very retro set but equally thoroughly enjoyable. Someone please give them a headline slot! They deserve so much more than the 8 songs they had here, and the crowd appreciated that.

Few metal bands (or any bands ever) are more proudly English than Saxon (yes I know they've had a German drummer once), in name and musical style. Yes there's some irony there, but you know where the band are coming from, right down to their love of English Breakfast Tea. Who better to headline a St George's Day gig? Well, no one. Saxon are more English than curry and chips.
And only Saxon could open a set like this with an intro tape of "Jerusalem". Probably the only situation you'll get a hall full of metal fans singing a hymn.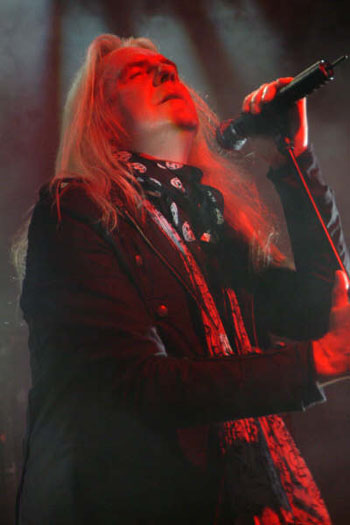 This was a themed St George's Day gig, with the set list chosen largely by fans through the website. So some new songs, and many classics not played, but 19 songs and nearly 2 hours saw Saxon rock the house with hits and classics alike. Something to please everyone no matter what classic omitted.

"Princess Of The Night" was the perfect start; uptempo with memorable lyrics and melody got the crowd and band going. This was followed by "Let Me Feel Your Power", the first of several tracks from Saxon's latest opus The Inner Sanctum. Not only is it as heavy as Saxon get, but it went down well with fans young and old.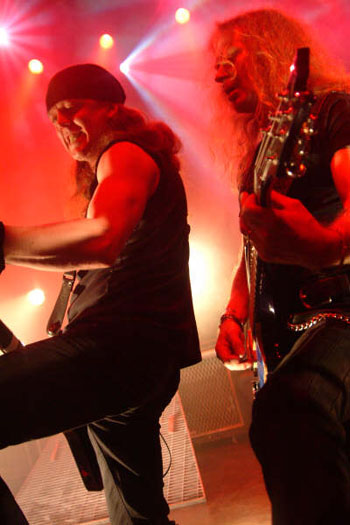 Bassist Nibs Carter opened "Lionheart" with a keyboard intro, then "Never Surrender", again mixing new and old to good effect. "Iron Wheels", "Jack Tar" and "The Thin Red Line" all got rare airings. Strange setlist indeed but highlights the strength of the Saxon catalogue.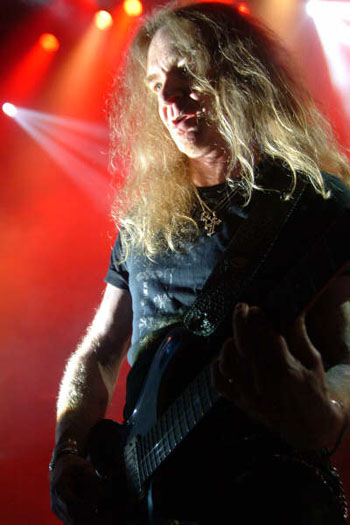 Guitarists Doug Scarratt (who I had nice pre match chat with) and Paul Quinn exchanged riffs and solos like brothers.
Bassist Carter is ever enthusiastic and full of energy. All three acknowledge the crowd, bringing everyone in. But star of the show is always frontman Biff Byford. His onstage persona, intersong banter and humour match his great voice and professionalism. Although at one point he nearly misses an intro as he meticulously draped one of five Union Jacks thrown onto the stage over the drum set.
"Witchfinder General" is always good live, and "Sixth Form Girls" was a surprising choice; it was the first time ever it had been played live but fitted in as if it had always been there.
Back to the new album and "I've Got To Rock To Stay Alive" and the lengthy "Attila The Hun" followed, but at no point did they lose the audience. Precision NWoBHM at its very best.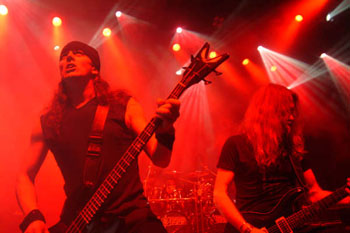 Two old classics "And The Bands Played On" and "Power And The Glory" finished the main set to much applause.
"State Of Grace" opened the first encore, another powerful track. And two of the band's all time greats in "747 (Strangers In The Night)" and "Denim And Leather". As always, Biff keeps talking, making band and crowed feel together like one big family.
The last number here was "Ashes To Ashes", which was the only weak song in an otherwise strong set ('classic' or otherwise). A chat, kiss and cuddle with Jax Chambers during this song more than made up for it though.

Back on stage to finish with "Crusader", a very English topic if a tad politically incorrect. And as a closing effort, the band left the stage to "Land Of Hope And Glory". Amazing.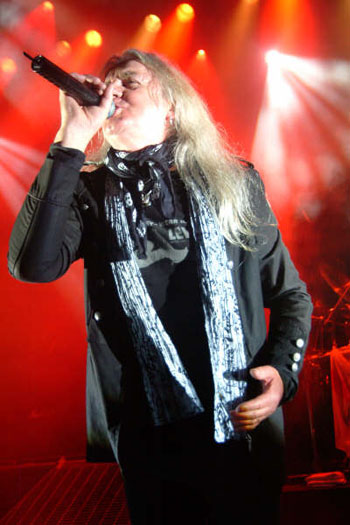 The only let down of the evening wasn't that they didn't play "Wheels Of Steel" (which, let's face it, isn't the band's best song and is a trifle over played), but that a few fans left moaning that they didn't, slating both band and gig, and coming across as a tad pathetic to be honest. Personally I would have loved "Unleash The Beast", "Dogs Of War", "Solid Ball Of Rock" and "Rockin' Again" but you only have to look at the strength of what they did play. This is Saxon in 2008 and they still sound bloody good.

Review by Joe Geesin
www.joegeesin.com
Photos by Noel Buckley

---
| | |
| --- | --- |
| | Print this page in printer-friendly format |
| | Tell a friend about this page |