QUEEN + PAUL RODGERS The Cosmos Rocks EMI (2008)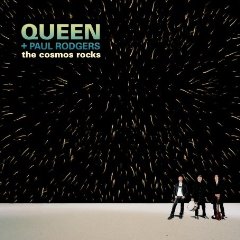 The first all new Queen album in over thirteen years and of course the first without the late, great Freddie Mercury on vocals. Free/Bad Company singer Paul Rodgers is one of my all time favourite vocalists after Freddie so I do have high expectations for this album. Having seen them live I know the band still have the magic and happily they still have it in the studio...
The rock 'n' roll fun of 'Cosmos Rockin' gets the album of to a flying start with all three band members in fine form, particularly Brian May's heavy guitar playing - a sheer delight to listen to.
The lyric to 'Still Burnin' looks at how the band still have the desire and passion to make music and the song even features a snippet of 'We Will Rock' styled drums/handclaps. 'Time To Shine' and 'We Believe' are slower numbers that in the case of the latter build nicely to a crescendo come the chorus.
'Surf's Up...School's Out!' is an instant classic and sure to be played live - a real Queen stadium anthem. 'Time To Burn' really does sound like a mellower Bad Company/Free song and even Brian May's guitar playing takes on a Bad Company sound.
'Say It's Not True' is slightly re-jigged on here having first been released to help the Mandela AIDS charity. Go onto ITunes and you can download a bonus song, a cover of Del Shannon's 'Runaway' complete with high range backing vocals from Taylor/May.
There are a couple of let downs though in 'Warboys' (which Paul Rodgers played on his last solo tour) which never seems to get going and 'Call Me' which just sounds like a decent tune in search of a decent lyric! However I have warmed more to the single 'C-Lebrity' which does sound like classic Queen the more you hear it.
The overall sound is one of Queen with Paul Rodgers on vocals which it is meant to be, not Queen with a new vocalist replacing Freddie Mercury and if you approach it from this angle even the most die hard 'its not Queen without Freddie' fan will enjoy this album.
Everything you love about the Queen sound is still present like the distinctive Brian May guitar orchestra, those layered harmonies, and Roger Taylor belting seven shades of the proverbial out of his drum kit (with plenty of cymbals just the way we like it!).
The only thing this album lacks is that OTT camp sound that Freddie Mercury adds to Queen but I for one am glad that Brian May and Roger Taylor are keeping the band alive and with such a great vocalist. Ignore those broadsheet and 'NME' reviews as they have never liked Queen and like my other great musical love ELO, it may never be hip to like Queen but when the music is this good who cares?
****
Review by Jason Ritchie
---
| | |
| --- | --- |
| | Print this page in printer-friendly format |
| | Tell a friend about this page |