OLI BROWN Open Road RUF 1139 (2008)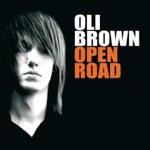 It's been a long time coming but in Oli Brown the UK has potentially a new talent capable of filling the rock blues niche. At barely 18, Oli has already made huge strides, coming from seemingly nowhere to pick up a guitar at 16 and turn pro barely a year later.
And while 'Open Road' may not be the greatest debut album to hit the racks in a decade, there's enough strong funky grooves at play and an engaging edgy guitar style that grows in confidence as the set progresses to suggest that there's plenty more good music to come. Perhaps the most notable thing to mention is that unlike many of his American contemporaries Oli's approach is governed by finding the right groove with which to develop his musical ideas rather than the million notes a minute approach.
Sure there are some crisp solos here but the songs remain the key element in the mix. And while some of the lyrics such as 'Psycho' for example, might seem a little forced for an 18 year old, it's refreshing to fi nd such a young man in a lyric led funky mode. The album opens with a neat slice of funk complete with a lovely tone, and he overcomes a few nervous flutters to develop an increasingly confident style. Oli makes good use of some basic dynamics and uses his voice to good effect on 'Roxanne' before a fine stab at The Temptations 'Can't Get Next To You'.
In some respects 'Open Road' seems to be an album of two halves with both Oli and his rhythm section overcoming some early studio claustrophobia to find their feet on the impressive 'All The Kings Horses' which benefits from a fatter sound courtesy of Govert Van Der Kolm's B3 organ.
The more relaxed approach on the track is offset by Oli's playing which burns with some real intensity as he almost imperceptibly ups the tempo of the song. On the equally impressive drifting blues 'Missing You' he finds a deep tone to carve out a mellow mood with a contrasting edgy solo, before heading into the live favourite 'New Groove', a languid shuffle which translate well into the studio setting.
And by the penultimate track 'Played By the Devil', one of three band penned efforts, you can almost feel the band growing in confidence as they swing things up.
Overall Oli just about pulls things off, though you can't help but think that everyone is in such a rush to bring on a new talent, that had this been a few years ago, he would have continued his busy road work and perhaps accumulated a few more songs and then finally teamed up with a producer who could bring his experience to bear on the best of the raw material. As it is, that may still happen in due course and until then this album is an exciting calling card from an exciting18 year old talent who fulfils his huge potential in parts ***1/2
***
Review by Pete Feenstra
---
| | |
| --- | --- |
| | Print this page in printer-friendly format |
| | Tell a friend about this page |