MOTORHEAD Motorizer SPV (2008)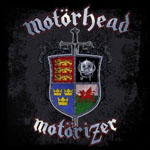 The famed trio of Lemmy, guitarist Eddie Clarke and drummer Phil Taylor is often dubbed the 'classic' Motorhead line-up with killer albums like 'Overkill,' 'Bomber' and 'Ace Up Spades' under their collective belts; but the current triumvirate of Lemmy, Mikkey Dee and Phil Campbell is an entirely different beast and maybe something even better and more creative.
Even late nineties albums like 'Overnight Sensation' and 'Snake Bite Love' deserve more acknowledgement from fans and critics. 2002s 'Hammered' was a slight misstep for this particular line-up but 'Motorizer' makes a triple-whammy of brilliant albums that began with 'Inferno' (2004) and was followed with 'Kiss Of Death' (2006.) Basically, 'Motorizer' is business as usual…and that's a damn good thing.
'Motorizer' starts with the fire-blazing 'Runaround Man' and proves that the fun comes from hearing a loud, fast and heavy rock song in the way Motorhead do best. One nice surprise is the mid-paced stomper 'One Short Life' which includes a cool guitar solo and some introspective lyrics from Mr. Kilmister. 'Back On The Chain' has an interesting thumping bass melody similar to 'Damage Case' and 'The Thousand Names Of God' has a nifty blues twang.
'Time Is Right' and 'Rock Out' are both speed demons; the latter sounds a tad similar to a certain track known as 'Ace Of Spades.'
However, the vocal intro to 'English Rose' shows that Lemmy's voice sounds a little strained and it may be a warning that he should - gasp - possibly calm things down a bit? What you get here is a collection of 11 songs that prove there is still life left in this band and they're enjoying more success then they've had in years. They deserve all the attention they get and I'm sure they're selling more t-shirts then ever before.
****
Review by Neil Daniels
www.neildaniels.com
---
| | |
| --- | --- |
| | Print this page in printer-friendly format |
| | Tell a friend about this page |
***** Out of this world | **** Pretty damn fine |
*** OK, approach with caution unless you are a fan |
** Instant bargain bin fodder | * Ugly. Just ugly
get ready to rock is a division of hotdigitsnewmedia group