MATT COSTA Unfamiliar Faces (2008)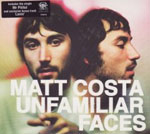 Californian singer-songwriter Matt Costa has been around for a while now, having a couple of indie releases under his belt and having toured with Jack Johnson. But at 25 he's clearly hoping that Unfamiliar Faces will provide a breakthrough to the big time.
Well first up, it's a nicely played and produced album. Eminently listenable in fact, but with the plethora of singer songwriter's plying their trade you really need, its sad to say, the X factor.
And there's the rub. Close you eyes, and the opening track Mr Pitiful could be a young Leo Sayer (before he began to believe his own publicity) and much of the rest of the album sounds like a cross between just about as many cross-legged acoustic strumming flower children you can think of. Donovan and Marc Bolan spring particularly to mind. Vienna has a distinct Paul Simon feel to it, the songwriting style of Ray Davies is evident here and there and Trying To Lose My Mind has a distinctly sixties (In The Summertime?) feel.
Which leads me to conclude that if Unfamiliar Faces had been released in the late 60s or early 70s we'd be hailing Matt Costa as the Dylan of his generation. But truth be told, 3 decades later it has a rather been there, heard it, got the T shirt feel about it.
But that said, it's better than most of the indie 'tat' that passes through GRTR in tray. And you never know, to those who haven't lived through the 70s singer songwriter generation, Matt may just have what it takes.
***
Review by Pete Whalley
---
| | |
| --- | --- |
| | Print this page in printer-friendly format |
| | Tell a friend about this page |